2020 CarBuzz Awards Winners Announced
Press Release
•
updated: Dec 21, 2020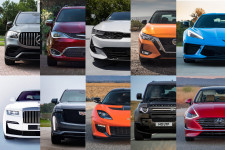 NEW YORK, December 21, 2020 (Newswire.com) - After announcing the finalists of the 2020 CarBuzz Awards earlier in December, the winners of the various categories have been announced. "This year has been filled with an impressive number of vehicles that substantially moved the game forwards in the respective segments," says Roger Biermann, CarBuzz Managing Editor. "But after a lengthy process of evaluating the vehicles throughout the year and debating their merits, we are proud to announce the winners of each category."
Vehicles were selected from those that were test-driven by CarBuzz members of staff, either on week-long loan or first-drive events. After nominations were discussed, each category was whittled down to three finalists, before a winner was eventually crowned. Winners were selected on merit alone, depending on the needs of the category in which it competes. CarBuzz writers have no affiliation with any carmaker.
"We were truly astounded by the level of competitiveness on display this year," says Biermann. "The 2020 Awards were the toughest yet, with our writers and editors spending hours debating the merits of each finalist before finally selecting the winners."
Name of Press Contact: Jared Rosenholtz
Phone: (267) 760-5617
Email: jared@carbuzz.com
Source: CarBuzz
Additional Links