Car Insurance Penalties for Distracted Driving Up 10,000% Since 2011, The Zebra Reports
Press Release
•
updated: Apr 2, 2019
Report Published This Distracted Driving Awareness Month Sheds Light on State-Specific Penalties, Comparisons to DUI Violations and More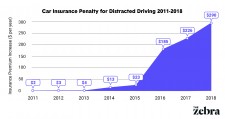 AUSTIN, Texas, April 2, 2019 (Newswire.com) - The Zebra, the nation's leading insurance comparison site, today released its 2019 Distracted Driving Report, which details a massive shift in how insurance companies are raising rates for drivers who are caught using their phones behind the wheel. In just eight years, insurers have increased the penalty for distracted driving nearly 10,000%, and it's costing drivers hundreds or even thousands of dollars.
Car Insurance Penalty for Distracted Driving up 10,000%
In 2011, a ticket for distracted driving (texting or using a cell phone while driving) would have raised a driver's car insurance rates by 0.2%, costing them less than $3 per year in added premium.Today, the same violation will raise car insurance rates an average of 19.7%, or about $290 – a penalty increase of 9,750%.
"Now that distracted driving has unfortunately become commonplace, most drivers know they could get hit with a ticket or court costs if they are caught texting or using their phone while driving. What many people don't know, however, is their insurance company may also raise their rates hundreds of dollars or more," says Alyssa Connolly, Director of Market Insights, The Zebra. "If anyone needs another deterrent, distracted driving is not only dangerous, but incredibly expensive, too."
Distracted Driving Penalties Inconsistent State to State
As of late 2018, insurers in all states penalized distracted driving, whereas only 10 did in 2011. Across the country, penalties for distracted driving range from $87 to $762 (5.5% to 56% of total annual premium), and in some cities, the penalty nears $1,700.
States with the highest insurance penalties (percent rate increase) for a distracted driving violation:
Vermont – 56% (+$600)
Montana – 33% (+$464)
Oregon – 32% (+$440)
States with the lowest insurance penalties for a distracted driving violation:
New York – 5% (+$93)
Wyoming – 6%(+$87)
Hawaii – 9% (+$94)
Distracted Driving Penalties Significantly Less Than DUI penalties
Insurance companies penalize drivers charged with a DUI with a rate hike of $1,086 (74%) on average. Other violations that receive harsh penalties from insurance companies include driving too slowly (+21% or $305), making an illegal turn (+23% or $332), or passing a school bus (+27% or $398) – all still higher penalties than distracted driving (+20% or $290).
Given the amount of data pointing to the continued risk distracted driving is likely to pose, drivers may likely expect insurance penalties for distracted driving to continue – if not increase – in the coming years.
For comprehensive information about how distracted driving and other violations influence individual car insurance rates, see The Zebra's 2019 Distracted Driving Report.
About The Zebra
The Zebra is the nation's leading insurance search comparison site. With its dynamic, real-time quote comparison tool, drivers can identify insurance companies with the coverage, service level, and pricing to suit their unique needs. The Zebra compares more than 200 car insurance companies and provides licensed agent support and educational resources to ensure drivers are equipped to make the most informed decisions about their policies. It's "insurance in black and white."
Media Contact:
Nicole Beck
press@thezebra.com
Source: The Zebra
Related Media
Tags