Cannabis Club ATL & Metro Boomin Music Collaborate on New Single & New Album
Press Release
•
updated: Aug 30, 2017
Revolutionary new music group drops anticipated smash hit...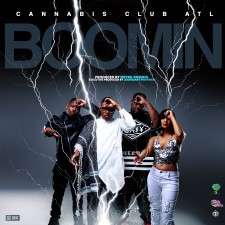 ATLANTA, August 30, 2017 (Newswire.com) - Revolutionary music group, Cannabis Club ATL and one of the hottest, most sought-after producers, Metro Boomin team up, on a highly anticipated newly-released single 'Boomin.' 'Boomin' is catching fire on social media throughout the Urban Rap music scenes and DJ record pools. The single and album 'Retro Boomin' are a collaboration of tracks executive produced by, The Legendary Fruitman for Moneytree Entertainment. 'Retro Boomin' is Cannabis Club ATL's second album release and is entirely produced by Metro Boomin.
As always, Cannabis Club delivers their ATL (Alien-Type-Life) lyrics with clever wit and swag, on the title track 'Boomin.' The group's new music, revolutionary vision coupled with Metro Boomin's skillfully crafted beats; captures the group's upbeat energy and unique style of sound. Due out Sept. 1, the 12 track 'Retro Boomin' album, is a collective of tracks from super-producer, Metro Boomin; who produced multi-platinum hits for Kanye West, Chris Brown, Future, 2 Chainz, Drake, Gucci Mane, Nicki Minaj, 21 Savage, Young Thug, Migos and the Weeknd. Cannabis Club ATL's 'Boomin' new music video will be released soon.
Like the many strains of cannabis, the 'Retro Boomin' album offers a wide range of Cannabis Club ATL's harmonious well-stylized music and layered sounds. Title track 'Boomin' is available now. For more information about Cannabis Club ATL, go to Facebook, Twitter, Instagram – Like, Follow, Share. 'Boomin' and 'Retro Boomin' are available on Money Tree Entertainment distributed by Empire Distribution. Inquiries for press and booking Cannabis Club ATL contact info@moneytreerecords.com.
Source: Moneytree Entertainment
Related Media
Tags
Additional Links