Canadian Startup 'Spivo' Pitches $200,000 Investment to CBC's Dragon's Den for Game-Changing Selfie Stick
Press Release
•
updated: Nov 9, 2017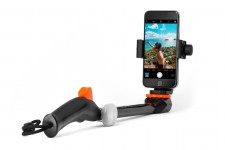 OTTAWA, Ontario, November 9, 2017 (Newswire.com) - Spivo, a Canadian startup that creates accessories which enable people to capture adventures and share their memories in new and exciting ways, is going head-to-head with CBC's hit television show, Dragon's Den, to pitch for a cash investment to scale their business efforts to the next level.
On November 23rd, watch founders Andre Bellerive and Marc Bjerring, recent graduates from the University of Ottawa, bring their product to the dragons after hitting over seven figures in sales across 60 countries in 2016-2017.
After struggling with an initial crowdfunding campaign on Kickstarter in 2015, Spivo was able to generate enough pre-orders through their website to convince an angel investor to back the company's initial startup. Since then, Spivo has experienced exponential growth and their flagship product has been purchased all across the globe. The Spivo Stick is made and manufactured in Canada, and they are pitching Dragon's Den next month with the hopes of finding a new partner and raising additional capital in order to take their company to the next level.
Tune in to the episode, which airs Thursday, November 23, at 8:00 p.m. EST (8:30 NT) on CBC Television.
Spivo has been receiving tremendous support from content creators around the globe, the likes of which include YouTube superstar, Casey Neistat.
Check out Spivo, and learn more about the Spivo Stick today on their website: https://www.spivo.com.
Their flagship product, the Spivo Stick, revolutionizes selfie sticks by allowing the user to rotate any camera 180 degrees with the click of a button. This makes it much easier to capture moments from different angles so that you can share priceless memories with your friends and family. The Spivo stick is compatible with GoPro's, Smartphones, and most action cameras.
The Spivo Stick is made and manufactured in Canada.
The company also makes various accessories that allow the device to be even more versatile for travel and adventure. Whether being used for fun at the park or a vagabond's trip to Thailand, Spivo is great for making all moments that much more memorable.
Source: Spivo Inc.
Related Media