Camp Yarnsie Virtual Craft Festival Saturday, July 25, 2020​
Press Release
•
updated: Jul 23, 2020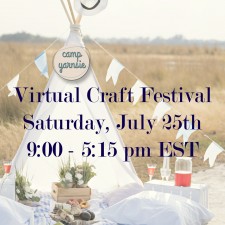 ATLANTA, July 23, 2020 (Newswire.com) - ​​As we are all currently stuck at home, many people with an interest in yarncraft are eager to get back into it, but there is a problem -- the artisans and craftspersons who inspire, mentor, or supply quality materials are also stuck at home. While customers wonder how they can ask for expert advice on the best yarn for their next project or if they'll ever see their favorite jewelry maker again, the artisans and purveyors' stock builds up and bank accounts drain as the venues in which they used to sell and thrive sit empty. At Camp Yarnsie, we want to step in to be the missing link between the clamoring customers and marketless crafters.​
We've designed Camp Yarnsie to be the best digital craft fair. It is a live "meeting" event on Facebook, during which craft artisans and suppliers will have live presentations about their products, and attendees can "meet" them and ask any questions, or get recommendations, just as they would at a traditional craft show. Everyone is welcome, from beginners just thinking of getting into crafting with DIY project kits to experts looking to finely tune their current kits with the very finest materials. Camp Yarnsie supports the vendors with top-of-the-line tech support so vendors and attendees alike can be assured of a smooth well-run online experience. ​
Our next virtual craft fair will run from 9:00 a.m. to 5:15 p.m. EDT, July 25. Anyone wishing to participate is encouraged to join https://www.facebook.com/groups/campyarnsie/ for free and tune in during the festival hours. The July virtual festival will feature 11 craftswomen and artisan vendors from across the U.S., Canada, and even South Africa. Their expertise and products include such handmade products as yarn and fiber; wooden yarnworking tools and accessories; and non-yarn craft products such as soaps and lotions, and jewelry. ​
The July festival vendors will be:
Megs & Co. (Fairport, NY)
Cedar View Farm (Mitchells, VA),
Matchmaker Yarns (Olympia, WA)
Cowgirlblues (Cape Town, South Africa)
WildWestDye (British Columbia, Canada)
TJE Design Studio (New Haven, IN)
Wing & A Prayer Farm (Shaftsbury, VT)
FFFabuknits (Coalville, Utah)
CreateTricks (Derwood, MD)
Wild Stitchers LLC (Albany, WI)
Laughing Cat Fibers (Canal Winchester, OH)​
Vendors who would like to be included in future virtual festivals are encouraged to apply at https://yarnsie.com/vendor-application/ . The August festival will be Aug. 21-22, 2020. The deadline to apply is Monday, July 27. Even if you have never conducted an online presentation before, that's exactly why we are here for you. We fully support vendors in understanding and using technology to the optimal degree to help them rise up to meet the challenge of our time.​
Those who can't make this festival can look out for our "campfire classes" between the festivals. Join our mission to support the handmade arts. Learn more about Camp Yarnsie at https://yarnsie.com/
Contact: Lindsay Lichtenstein
Phone: 770-313-3036
Email: hello@campyarnsie.com​
Source: Camp Yarnsie
Tags
Related Files
Additional Links