BoxerKnits Announces the Launch of Its New Collection; Falling Into Winter.
Press Release
•
updated: Oct 21, 2017
Falling Into Winter is a 12-piece collection of lace, scarves and shawls hand knitted from a decadent cashmere wool imported from France. This collection of luxurious, handmade, modern rustic scarves is inspired by the colors of winter and autumn. BoxerKnit's belief, motto, and guiding philosophy is, "Knitting the soul food of modern rustic accessories."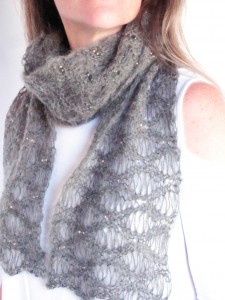 CUMMING, Ga., October 21, 2017 (Newswire.com) - ​​Designer Lindsay Lichtenstein from BoxerKnits is set to launch her latest collection, Falling Into Winter, on Oct. 25, 2017. The line will feature 12 modern rustic, handmade, lace scarves and shawls. The items are hand knitted in the USA by the designer herself. Lindsay Lichtenstein, founder of BoxerKnits, combined autumn colors, a quality blend of angora mohair and cashmere (imported from France), and rustic knitting techniques to come up with these twelve timeless fashion accessories. "My collections are inspired by real life and tested for everyday wear," Lindsay Lichtenstein said. "Every item is made one at a time, by hand. Each item is unique. No two are exactly alike," she continued. "These unique, stylish, sculptural, modern rustic accessories for women will usher you and your personal collection into trendsetter status."
The Falling Into Winter line is designed to be both functional and fashionable. Color and design complement trendy winter outfits while keeping you protected from the cold, harsh realities of winter. The cashmere wool blend, imported from France, used to make the scarves and shawls is high-quality and long-lasting. Every piece is hand washed and blocked. With care, these twelve, inspired, modern rustic knitwear pieces, have the potential to last a lifetime.
Falling Into Winter will be sold, exclusively, on boxerknits.com. The collection is, however, limited. All the pieces are scheduled to sell out by the end of the season.
Each individual scarf and shawl has its own name. A few examples are:
· Rain Cloud Beaded Lace Scarf
· First Frost Beaded Lace Scarf
· Harvest Moon Lace Infinity Scarf
· Autumn Leaves Lace Scarf
· Snowflake Lace Infinity Scarf
The Falling Into Winter collection ranges in price from $60 to $220. Lindsay Lichtenstein is thrilled to welcome her fans to her new highly anticipated hand knitted product line collection. BoxerKnits also specializes in dog coats and sweaters for all dog breeds, adorable baby rompers with fun designs, luxurious scarves, and shawls. Canine sweaters are made available via custom commissioned orders because as Lindsay Lichtenstein put it, "Canine sweaters are very popular. I can't seem to keep any in stock; they sell so fast!" All proceeds from BoxerKnits's sales are used to support Lindsay Lichtenstein's family and handmade business. Asked why she thinks there is such a high demand for her hand knitted accessories, Lindsay Lichtenstein had this to say, "You cannot get the unique style and high quality offered by my luxurious handmade knitwear from the mass-produced items offered by big box stores. You just can't. I personally, see to every aspect of my products. I design, knit, and ship personally."
For more information about the Falling Into Winter Collection or for an interview with Lindsay Lichtenstein, please write to info@boxerknits.com. Media high-res photos available upon request.
About BoxerKnits: BoxerKnits is a handmade business specializing in fashion accessories for women. Lindsay Lichtenstein, the founder, produced her first knitwear to shield her two boxers (Brogan and Ella) from an exceptionally cold winter in Georgia. Lindsay could not find stylish and trendy canine sweaters, for the bigger dog breeds, in the market. She vented out her frustrations by knitting some for her dogs and soon, everyone wanted a piece of her canine sweaters. BoxerKnits has a baby romper collection, called The Garden Party Collection, inspired by Teagan, Lindsay's one-year-old daughter. The Falling Into Winter collection is under her women's collections. Apart from pre-designed collections, women also have the option to commission couture designs. Lindsay Lichtenstein's business motto, knitting soul food of modern rustic accessories, has seen BoxerKnits carve out a niche for itself among women who appreciate the marriage of modern rustic to vintage luxury.
Related Links
Source: BoxerKnits
Related Media
Tags
Related Files
Additional Links