CallCabinet Atmos PLUS Wins Product of the Year Award
Press Release
-
updated: Feb 24, 2017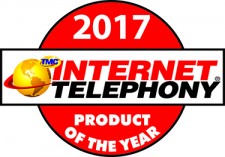 Boca Raton, USA, February 24, 2017 (Newswire.com) - ​​​CallCabinet Atmos PLUS, which harnesses the power of the cloud to enable businesses to comply with the growing volume of data and consumer protection legislation, has been selected as one of Internet Telephony magazine's 2017 Products of the Year.
"It gives me great pleasure to recognize CallCabinet Atmos PLUS with a 2017 Product of the Year Award for its commitment to excellence and innovation," said Rich Tehrani, CEO, TMC. "In the opinion of our distinguished judges, CallCabinet's Atmos PLUS has proven to be among the best communications and technology solutions available on the market. I look forward to continued innovation from CallCabinet."
Now in its 18th year, this award was established to recognize and honor companies that have demonstrated "innovation and excellence" in the development of VoIP and IP Communications products and services.
CallCabinet CEO Ryan Kahan said the award was a great honor for CallCabinet, which added Atmos to its product suite just over two years ago. CallCabinet yesterday announced that it has extended Atmos functionality to include enterprise requirements with its second version, Atmos PLUS.  Atmos PLUS has been designed to facilitate the needs of enterprises by including agent evaluation, reporting analytics and desktop screen capture, among its features.
"Atmos PLUS is designed for companies that have multiple branches, and have a need to monitor quality and performance in their contact centers, while maintaining strict compliance with call recording and record-keeping laws and regulations. It is available as either an on-premise solution or via the cloud," Kahan said.
All CallCabinet Atmos variants support recording  across multiple communication networks, or branch offices with the ability to search, sort and locate calls within seconds. Customer call data is stored in the cloud using a rotating encryption algorithm, across multiple servers and geographic locations.
Every recorded call meets compliance standards such as PCI DSS, HIPAA, MIFID II, MAD II, Dodd-Frank Act and many others, and is individually secured and encrypted at source with a rotating encryption methodology that is unique and specific to each call.
CallCabinet continues its recording technology innovation by developing new features and enhancements to Atmos based on customer feedback and new compliance standards.  Because Atmos and Atmos PLUS customers are cloud-based, they automatically receive upgrade benefits without system outage.  
About CallCabinet
CallCabinet Corporation develops and markets some of the most innovative recording solutions in the world. Based in Boca Raton, Florida, CallCabinet's suite of products is designed to bring compliant managed recording to every business, no matter the size. We have solutions for one-person businesses that are fully scalable to meet the needs of large enterprises with thousands of agents located across the globe. From Atmos, the award-winning cloud recording solution to Carbon's feature rich on premise solution, CallCabinet provides recording of everything from TDM telephone calls to Skype for Business interactions. This flexibility and scalability combined with agile solution development and customization, makes CallCabinet the preeminent provider in this space.
About Internet Telephony magazine
Internet Telephony magazine has been the IP Communications Authority since 1998. Beginning with the first issue in February of 1998, Internet Telephony has been providing unbiased views of the complicated converged communications space. Internet Telephony offers rich content from solutions-focused editorial content to reviews on products and services from TMC Labs.  Internet Telephony magazine reaches more than 225,000 readers, including pass-along readers.  For more information, please visit www.itmag.com.
About TMC
Global buyers rely on TMC's content-driven marketplaces to make purchase decisions and navigate markets. This presents branding, thought leadership and lead generation opportunities for vendors/sellers.
TMC's Marketplaces:
•    Unique, turnkey Online Communities boost search results, establish market validation, elevate brands and thought leadership, while minimizing ad-blocking.
•    Custom Lead Programs uncover sales opportunities and build databases.
•    In-Person and Online Events boost brands, enhance thought leadership and generate leads.
•    Publications, Display Advertising and Newsletters bolster brand reputations.
•    Custom Content provides expertly ghost-crafted blogs, press releases, articles and marketing collateral to help with SEO, branding, and overall marketing efforts.
•    Comprehensive Event and Road Show Management Services help companies meet potential clients and generate leads face-to-face.
For more information about TMC and to learn how we can help you reach your marketing goals, please visit www.tmcnet.com.
CallCabinet Contact:
Ryan Kahan
CallCabinet Corporation
951 Yamato Road
Suite 204
Boca Raton, FL, 33431
pr@callcabinet.com
1.800.653.1389
Source: CallCabinet, Call Cabinet, TMC
Share:
---
Categories: Compliance and Regulations, Telecommunications, Voice Over IP and Telephony, Training and Coaching
Tags: Atmos, CallCabinet, Compliance, Interaction Recording, Ryan Kahan
---