SAN DIEGO, April 11, 2019 (Newswire.com) - The Independent Voter Project today addressed Dem. Assemblywoman Lorena Gonzales' Presidential Primary bill proposal, stating that it falls short and puts party politics over the voting rights of more than 5.6 million California voters.
Assemblywoman Lorena Gonzalez-Fletcher of San Diego, who is running for Secretary of State in 2022, says she's trying to clear up any ballot confusion that currently exists for NPP voters in California.
Unfortunately, AB 681 fails to give California's 5.6 million NPP (No Party Preference) voters the opportunity to choose presidential candidates. Gonzalez's bill would provide NPP voters additional information about California's current and confusing semi-closed presidential primary rules, but fails to provide California's voters an open presidential primary, as the California constitution requires.
Dan Howle, Chairman and Executive Director for the Independent Voter Project, said of Gonzalez' proposed bill, "AB 681 shortchanges California's 5.6 million No Party Preference voters who will continue to be denied the same rights to choose the Presidential candidates as party voters. Gonzalez has put party politics before the rights of voters in California. As a candidate for Secretary of State she should fight to give every voter the same voting rights and not just members of political parties. IVP is hopeful Assemblymember Gonzalez will either amend her bill or introduce new legislation to give NPP voters equal access to vote in the 2020 presidential primary."
In 2015, the Independent Voter Project warned the current Secretary of State that millions of voters would be disenfranchised if the confusing and unconstitutional semi-closed rules were not fixed. IVP offered a simple solution that would provide an alternative "public ballot" that lists every candidate and is open to every voter, regardless of party affiliation. Unfortunately, neither the legislature nor the Secretary of State acted in time to protect the voters.
IVP's proposed solution below: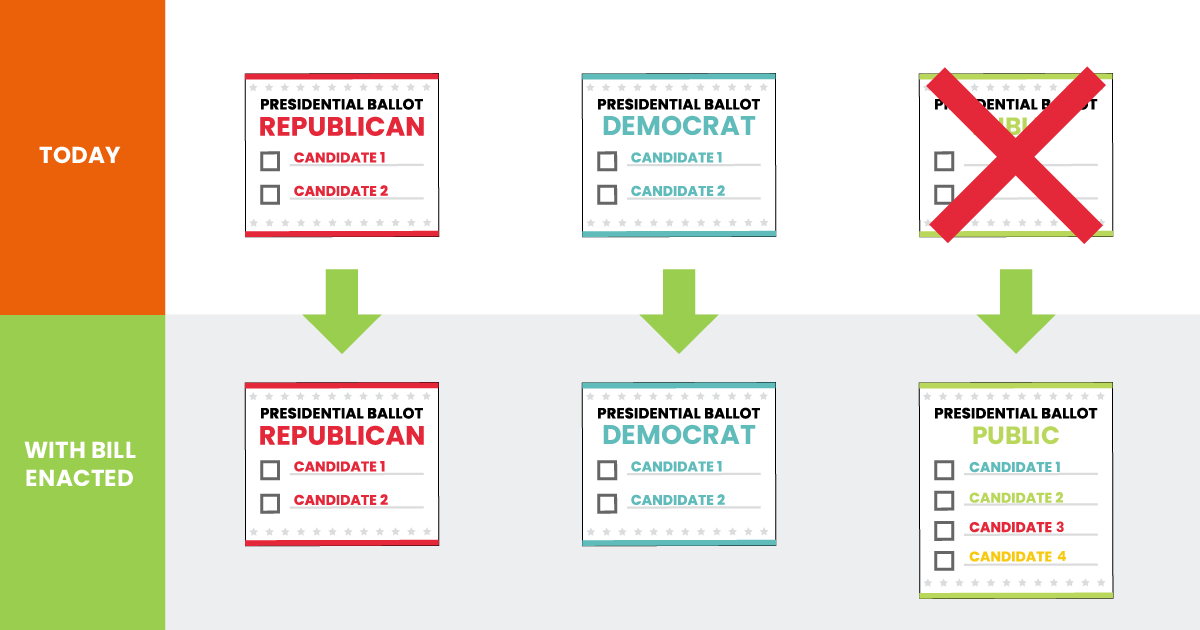 IVP's solution would have no effect on the Democrat or Republican ballot and the parties would be able to choose whether or not to consider the results of the public presidential primary ballot in choosing their presidential nominee.
Bottom Line: Let the parties keep their own ballots. Let the parties exclude or include whoever they want. Let the parties decide their own rules of nomination.
But give every voter their fundamental right to participate at every stage of the taxpayer funded public election process.
###
ABOUT THE INDEPENDENT VOTER PROJECT (IVP)

IVP is a 501(c)(4) organization that seeks to re-engage nonpartisan voters and promote nonpartisan election reform through initiatives, litigation, and voter education. IVP is best known for authoring California's successful nonpartisan primary. Learn more at: http://IndependentVoterProject.org ​
SUPPORT FOR THE PUBLIC PRESIDENTIAL PRIMARY
IVP's public presidential primary reform has been endorsed by the National Association of Nonpartisan Reformers, representing more than 40 reform organizations from across the country including Represent.us, Chamberlain Project, Open Primaries, FairVote, Let Colorado Vote, California Forward, and Unite America.
Cara McCormick, who led the effort for Maine's landmark Ranked Choice Voting reform, said, "Through this reform, millions of nonpartisan California voters will get their rightful seat at the table in choosing the next President of the United States. The status quo that will leave these voters out in 2020 is anti-democratic. In Maine, we fought back against the status quo and won and I have every confidence that California voters will fight just as hard and win."
Source: Independent Voter Project