BusinessCreator, Inc. Launches Video Press Release Service
​Edward Kundahl, Ph.D., M.B.A., President and owner of BusinessCreator, Inc. announced a new Video Press Release service. Can your company benefit from releasing time sensitive information and marketing messages that stand out from the crowd?
Press Release
-
updated: Sep 19, 2017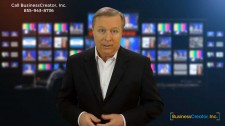 ALLENTOWN, Penn., September 19, 2017 (Newswire.com) - Edward Kundahl, Ph.D., M.B.A. stated, "Using our video news release services you'll receive a fast and affordable video production that transforms an average press release or marketing announcement into a powerful and effective online video for your business."
"Everyday your customers are bombarded with distractions and advertisements on a continuous basis. Trying to break through all the 'noise' and capture your potential customer's attention can be a daunting task. With so many marketing methods available to business owners today, it is confusing to determine which marketing method will give you the best return on your efforts and investment. What was once perceived to be a fad, video marketing has exploded onto the internet and has proved to be viable marketing method for business owners. While web sites, quality content and social media are all worthwhile marketing strategies, video marketing is the most effective method you can use to reach your customers. The popularity of videos has grown over the past few years and has increased 50 percent since just last year alone."
Kundahl continued, "Offering quality introductory and content videos can have a huge impact on your marketing campaign and will allow you to more effectively compete against your competitors. It is critical that you remain competitive in your marketing arena and begin strategizing a video campaign as soon as possible. Video can be a very powerful medium, and if done properly, has the ability to capture your customer's attention and draw them into your message. Video gives business owners the opportunity to impart their company's voice and style. Words and images are a great way to connect with customers, but video allows your company's voice to shine through and gives your message more impact.
"Video also has the capacity to capture your customer's attention in other ways. Ranking a video on page one of Google's search results will display your video thumbnail in the search listings. Having the thumbnail image of your video on Google's search page attracts more attention and gets more customers to click through to see your message. Even videos on the bottom of the search result page have the potential to receive more attention than normal links in the top positions of the search results.
"With our service, there are no lengthy production times or expensive costs involved with shooting and editing a video for your business. Our online video service takes a fraction of the time and cost of standard business video services. Using our professional video spokespeople, your video will have the engaging power and urgency of a real news flash and a professionally produced news story."
To learn more about the Video Press Release Service, visit https://www.businesscreatorplus.com/search-engine-marketing/video-press-releases.
More About BusinessCreator, Inc.
Founded in 1994, BusinessCreator, Inc. has helped many businesses with local search marketing, mobile marketing, social marketing and video marketing. The company's mission statement is "We make local businesses grow. Ask us how."
CONTACT INFORMATION
BusinessCreator, Inc.
Attention: Edward Kundahl
47 North Jefferson Street, First Floor
Allentown, PA 18102 Phone: 610-437-8822
Fax: 484-709-1851
Website: https://www.businesscreatorplus.com
Email: ed@businesscreatorplus.com
Source: BusinessCreator, Inc.
Share:
---
Categories: Business Development, Marketing, Advertising and Public Relations
Tags: video marketing, video press release, video seo
---