BusinessCreator, Inc. Announces the Launch of a Brand New Reputation Repair Service
Online Reputation Repair and Management Is All About Content & Social Media, Not Fake Reviews
Press Release
-
updated: Aug 30, 2017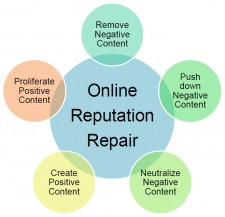 Allentown, PA, August 30, 2017 (Newswire.com) - BusinessCreator, Inc., an established leader in local search marketing, lead generation, mobile marketing, social marketing and video marketing, today announced the launch of Reputation Repair, a service created to push down or remove unflattering news, pictures, negative reviews, blog posts, and comments about individuals, their business, brand, products and services.  These negative comments can be posted and spread instantaneously throughout the online world fast—damaging a firm's status and affecting their sales and bottom line.
According to BusinessCreator, Inc. President Edward Kundahl, the Reputation Repair service will be available for purchase on immediately and will be available by calling 855-943-8736 or email marketing@businesscreatorplus.com.
"Push down, if not eliminate, the negative pages on search engine results about the client based on identified search terms by strategically ranking target pages that also address the negative reputation of the subject through strategic content is our goal," said Kundahl. "Your reputation is important.  Online reputation management means content, genuine consumer reviews and social sharing. ORM is not about publishing fake reviews.  Potential customers change purchase decisions when they see bad reviews, negative blog posts and comments which can spread in various channels such as in search engine results and in social media networks. These can gravely affect your brand and your business. That's why it's important to have your online reputation monitored and have these negativities mitigated—while proactively building positive reputation. In today's online world, it will be a huge mistake to ignore reviews about you or your business on the Internet. More so, it will be a bigger mistake to leave everything to chance, wishing that satisfied customers post the best testimonials while disgruntled ones keeping their opinions to themselves. Your target buyers are out there researching for you on the Internet and are looking for an excuse not to deal with you. Don't give it to them. " continued Kundahl.
"Every business can be attacked by negative reviews from unhappy customer or former employees and even competitors.  No one is immune from it and it can spread quickly on the Internet.  First and foremost the client needs to address these negative comments in a professional manner.  A strategy has to be implemented to eliminate future negative comments.  It is not enough to push down or eliminate the adverse comments from search results.  We put our clients on a program of building 5 Star Reviews, a true Reputation Marketing program along with the repair process.  Every business needs to be aware of what is being said about them or individuals within their business.  It is toxic to a business today not to know and not to take action.  Google yourself or your business now.  As yourself if you like what you see. Do positive reviews about your products and services come up first? Or are search results a mix of negative feedback about you and then a lot of webpages of your competitors? You can be tolerant but your prospects won't share that opinion. Don't do your business injustice. Make prospects see the best of you. Implement proper online reputation management today."
"Our online marketing agency can help manage your reputation online. We do it the right way. Call us now or send us a message to schedule your free consultation on online reputation management." stated Kundahl.
More About BusinessCreator, Inc.
Founded in 1994, BusinessCreator, Inc. has helped many businesses with local search marketing, mobile marketing, social marketing and video marketing. The company's mission statement is "We make local businesses grow. Ask us how.".
To learn more about BusinessCreator, Inc., you should call 610-437-8822 or visit them online at http://www.businesscreatorplus.com.
Source: BusinessCreator
Share:
---
Categories: Business Development, Marketing, Small Business
Tags: reputation management, reputation marketing, reputation repair, responding to reviews, review marketing
---