Burger Lounge Brings Award-Winning Grass-Fed Burgers to Campbell's Pruneyard
Press Release
-
updated: May 29, 2018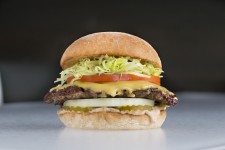 CAMPBELL, Calif., May 29, 2018 (Newswire.com) - Burger Lounge has announced they will open their first Silicon Valley location in Campbell, California on June 7, 2018.
"We're excited to bring a great hamburger you can also feel better about eating to Campbell," says J. Dean Loring, Burger Lounge Founder/CEO. "Silicon Valley is a progressive community and they expect higher quality food and more convenience from their fast-casual restaurant choices."
"Our food is simple by design, but simplicity is complicated," says Loring. "We strive to do a common thing uncommonly well, resulting in a burger that isn't just craveable but is made with mindfully-sourced ingredients. It's the hamburger your grandparents ate," explains Loring. "Unlike factory feed-lot beef, single source grass-fed beef doesn't leave you feeling like you need a nap after eating it."
Burger Lounge carefully selects like-minded suppliers from around the nation to partner with. They procure organic, grass-fed cheeses from Rumiano Cheese, with whom they've co-created a proprietary organic American Cheese blend. "It's rare to find a non-processed organic American cheese made from grass-fed milk," says Mr. Loring. "It is part of our ethos to constantly improve our relationships with suppliers who share our values. Likewise, our single source beef is raised humanely, grass-finished and always fresh. We think it matters to know where your food comes from."
The Burger Lounge menu takes familiar food to new heights by using premium ingredients sourced specifically for taste.
The menu includes burgers and combo meals ($7.95 - $16.95) featuring fresh, 100 percent grass-fed, grass-finished American beef, free-range turkey, organic quinoa, fresh chicken, and sustainable Alaskan cod. The signature Lounge Burger is made with grass-fed beef, organic American cheese, grilled or fresh onion, house-shredded lettuce, tomato, and house 1000 Island sauce.
Among the salads ($8.95) are the Fresh Vegetable Salad and the Lounge Caesar, both of which include organic ingredients and house dressings.
Burger Lounge also offers four options for sides: fresh-cut French fries, light panko-crusted onion rings, a Half and Half (fries and rings), and A Nice Little Side Salad™. Beverages include house-made lemonades, Batch® craft soda, organic iced tea, local beer and wine, and hand-scooped milkshakes, malts, and floats.
The menu selections also satisfy vegetarians, pescatarians, gluten-free diners, and kids.
The restaurant design aesthetic reflects the brand's "less is more" philosophy. It is fresh, modern, efficient, and forward-thinking. Created in partnership with Studio MYID, it features sustainable elements, such as tables made from recycled water bottles, in conjunction with a warm, efficient atmosphere.
Burger Lounge offers online ordering and a delivery partnership with DoorDash for guests looking for added convenience.
The Campbell opening marks the second of four planned Burger Lounges in Northern California. The final two restaurants — in Downtown Sacramento and Roseville — will open later in 2018.
Burger Lounge Campbell will be located at 1875 Bascom Ave., Campbell, CA 95008. The restaurant will be open daily for lunch and dinner. Lot parking is always accessible. Additional information and menu details are available at http://www.burgerlounge.com.
About Burger Lounge:
Established in 2007, Burger Lounge was founded by J. Dean Loring and Mike Gilligan with the underlying philosophy that superior flavor and freshness come from ethically and sustainably grown ingredients that are primarily organic, non-GMO and sourced from responsible growers and family ranchers. Each restaurant incorporates earth-friendly business practices reflected in such things as tabletops made from recycled water bottles and converted waste cooking oil that powers delivery trucks. There are currently Burger Lounge locations in Los Angeles, San Diego, Orange County, the San Francisco Bay area, and Las Vegas.
Source: Burger Lounge
Share:
---
Categories: Food and Beverage Services
Tags: Fast Casual, Grass Fed, Hamburgers, Healthy, Opening, Organic, Restaurant News, Salads, Silicon Valley
---