BUKU Ship and Luz Partnership Offers eCommerce Brands Strategic Market Analysis and Shipping Solutions
Press Release
•
Oct 20, 2022
BUKU Ship and Luz partner to further improve eCommerce brands' consumer experience. The partnership creates the unique ability for brands to use data to drive revenue and increase cart conversion.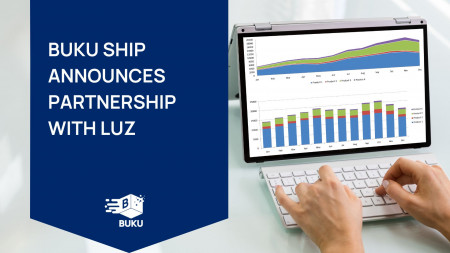 LEHI, Utah, October 20, 2022 (Newswire.com) - BUKU — shipping software solutions for fulfillment centers and brands — today announced a partnership with Luz, a provider of market research for the world's leading eCommerce brands.
With Luz, BUKU's customers receive eCommerce tools that provide customer analytics, product research, benchmarking, market research, and more. In addition, Luz's customers will be able to receive AI-driven shipping solutions to deliver fantastic customer experiences, minimize errors, and turn shipping into a profit center.
BUKU and Luz are dedicated to improving a brand's customer experience. Brands use the data tools that Luz provides to understand their competitors' best sellers and promotional offerings and rely on BUKU's software to drive cart conversion and provide an Amazon-like checkout experience.
"BUKU's partnership with Luz supports our mission of making eCommerce sellers' lives easier," said Ken Muir, BUKU CEO. "Luz and BUKU help companies drive revenue and strategically grow their businesses. We are delighted with the reaction we have seen when brands paired BUKU with Luz and look forward to more exciting results."
Benefits of the partnership include:
Expanded Shipping Partners Domestically and Overseas: BUKU's shipping software provides access to hundreds of integrations across the eCommerce shipping supply chain ecosystem. In addition to USPS, DHL, UPS and FedEx, BUKU supports Landmark Global, OSM, Parcll, same-day carrier IndyShip, and more. BUKU also has strategic alliances with international companies and customs authorities, offering international tax and duty estimation and IOSS filing for its customers.
BUKU IntelliRate: BUKU uses cart psychology and dynamic rate shopping to display the lowest fully landed costs in the shopping cart at checkout, enabling brands to make more strategic decisions about shipping options and turn shipping into a profit center.
BUKU Dashboards: The BUKU team provides a strategic analysis of shipping and order data. BUKU provides live P&L dashboards for 3PLs to analyze all their shipments or a single store owner to gain valuable shipping insights to control costs, improve service, and focus investment to meet goals.
Luz Market Research: Use competitor data to innovate current product lines and expand into new verticals with ease. Identify top-selling product colors, materials, and verticals without overspending. Reinvent how teams validate decisions by removing typical blind spots. Nail pricing and inventory levels with quick comparisons to top brands in your space.
Luz Product Research: Built with ease of use in every step, Luz helps teams gain valuable insights from day one. With a simple and streamlined integration process. Class-leading support and onboarding. As well as easy-to-use platform with an intuitive data display.
Customer Loyalty: Simple, easy-to-use customer loyalty metrics without the usual guesswork. Remove blind spots in brand health with one-click tracking of average amount of repeat orders per customer, general mix of new vs. repeat customers, and top-performing retargeting campaigns across platforms.
The Luz and BUKU partnership helps Shopify brands from product conception through consumer delivery. Shopify has 300 million global customers and stores ship to over 175 countries every day — the competition is becoming more prevalent, increasing the need for store owners to enable a superior software suite like Luz and BUKU to differentiate their shopping experience.
"We are extremely excited to be partnering with BUKU. Luz and BUKU, together, enhance the customer journey. Brands use Luz to create great products and price competitively and BUKU allows brands to monetize and streamline shipping. It's a perfect match and we look forward to continuing to help our mutual customers thrive in an ever more competitive landscape," said Andrew Kenney, co-founder and CRO.
About BUKU Ship
BUKU is the first complete software solution focused on the Shipping Customer Experience (CX). Our Checkout CX and Post-Purchase CX solutions increase shopping cart conversions and customer loyalty, enabling our brands to increase their revenue and delight their customers every day. BUKU is headquartered in Lehi, Utah. To learn more, visit www.bukuship.com.
About Luz
Luz provides market research for the world's leading Shopify brands. Luz has developed the world's largest eCommerce database built for competitor tracking, product development, customer attribution, and more. Our software helps you innovate your products and grow your brand with competitor data, market trends, better marketing, and more. Visit luz at www.tryluz.com.
Source: BUKU Ship