Brunswick Landing Marina, Inc. Recognized Among Best of the Best by TripAdvisor
Press Release
•
updated: Jan 14, 2021
Marina Receives TripAdvisor 2020 Travelers' Choice Award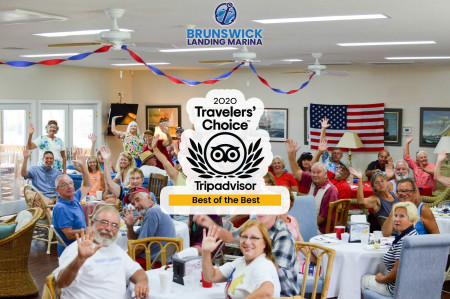 BRUNSWICK, Ga., January 14, 2021 (Newswire.com) - Brunswick Landing Marina has been recognized as a 2020 Travelers' Choice award-winner for Best of the Best by TripAdvisor. Based on a full year of TripAdvisor reviews, award winners in this exclusive category have consistently received great traveler feedback, placing them in the top 10% of hospitality businesses around the globe.
"Winners of the 2020 Travelers' Choice Awards should be proud of this distinguished recognition," said Kanika Soni, Chief Commercial Officer at TripAdvisor. "Although it has been a challenging year for travel and hospitality, we want to celebrate our partners' achievements. Award winners are beloved for their exceptional service and quality."
Brunswick Landing Marina president Daren Pietsch commented, "We are truly excited to receive this top award from TripAdvisor. For over 30 years now, the Torras family and the marina employees have worked to create a marina community where boaters from all over the world feel welcome, safe, and appreciated. This award confirms we are on the right track, but we will keep striving to make the marina and boatyard even better."
Brunswick Landing Marina is nearing completion of its latest expansion involving a new dock with 15 slips, including a 240' face dock with 100-amp 3-phase power that is able to accommodate mega yachts. The marina will now officially have 345 wet slips with the new dock. This robust, southernmost dock will also serve to protect the rest of the marina on the only open-water side.
Most marinas we have been to over the past three and a half years are basically large parking lots for boats where you unfortunately only know your fellow dock mates," according to Tim McNair, a longtime repeat customer of the marina. "Brunswick Landing Marina makes it a point to host social events and encourages boat owners to get off their boats and make friends in their Yacht Club. We frequently meet boaters in our travels that we met at Brunswick Landing who are now lifelong friends. This is a large marina with 17 docks spanning almost a mile of riverfront, but it still feels like a tight-knit community of friends where nearly everyone knows and offers to help everyone else. Even during these crazy times with COVID, Brunswick Landing Marina has worked hard to keep us healthy but still bring us together in safe ways that inspire a sense of camaraderie you cannot find anywhere else."
"I am very proud to work with such a great team. Our efforts, along with our location in beautiful historic downtown Brunswick, make the marina a truly magical place. We are grateful to receive this recognition from TripAdvisor and the travelers who shared their experiences with us," said R. Michael Torras, Marina Manager.
About Brunswick Landing Marina, Inc. Brunswick Landing Marina is a full-service marina located in the heart of downtown Brunswick, GA which includes 345 wet slips and 100 dry slips for storage and maintenance of vessels in their service yard. The marina is in an area formerly used by the US Navy as a hurricane hole which provides vessels with protection from wind and waves on three sides by land. Construction was completed on a new dock this past year that provides protection on the only vulnerable side which will also function as a wave attenuator. Brunswick Landing Marina prides itself on being much more than a marina, it is a social destination where yachters and sailors alike can enjoy each other's company at numerous events held throughout the year.
Source: Brunswick Landing Marina, Inc.