Bruins Playoff Success Sheds Light on Impact of Concussions
Press Release
-
updated: Apr 17, 2017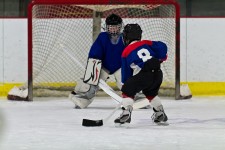 Chestnut Hill, Massachusetts, April 17, 2017 (Newswire.com) - It's NHL playoff season, and Bruins fans have enjoyed one win, so far. Despite the win, there were noticeable key players missing from the lineup, sidelined from injuries that occurred during the season. Defenseman Brandon Carlo missed the first two playoff games due to a suspected concussion. While hockey isn't known for its safety, we, in New England, love the sport and can't get enough. With the popularity of youth hockey in our region, how can we keep our kids healthy and injury-free on the ice? One of the biggest concerns to watch out for is concussions.
"A concussion is any traumatic brain injury caused by a blow to the head. But it is important to note that concussions can also occur from a severe body hit that in turn causes sudden head movements. One of the most important factors in a favorable outcome for concussions is early recognition. If a player is suspected to have a concussion, they need to be removed from play immediately," said Dr. Jeannie Kenkare, PhysicianOne Urgent Care Co-founder and Chief Medical Officer. "While most concussions fully resolve, some can have longer lasting effects that take longer to resolve, or never fully resolve."
"Returning to play too early creates a greater chance of repeat concussion, which can be very serious, and increases the risk of developing post-concussive syndrome and permanent brain injury."
Signs and symptoms generally show up soon after the injury and can include confusion or difficulty concentrating, dizziness, headache, nausea/vomiting, light or sound sensitivity, or "just not feeling right." However, there are times the symptoms of a concussion may not be present for hours or days. 
"If a coach or parent feels a player might have a concussion, remove the athlete from play and do not have them return to play until they have been evaluated by a health care provider. If the young athlete is diagnosed with a concussion, continued follow up and monitoring is important. The treatment for concussion is rest - both physical and mental rest. This is the most important factor to allow brain healing. The decision to return to play is one that should be made only by the health care provider to ensure that the athlete is safe to return to play," said Dr. Kenkare. "Returning to play too early creates a greater chance of repeat concussion, which can be very serious, and increases the risk of developing post-concussive syndrome and permanent brain injury."
The good news is that with the increased awareness of concussion and brain injury, body checking is typically not allowed in the younger levels of youth hockey. So players who are introduced to the ice early are brought up with education, awareness and proper sportsmanship. All key factors in staying safe on the rink.
PhysicianOne Urgent Care is open every day of the week and has hours that extend beyond the normal primary care provider hours, allowing patients to be seen – and begin treatment, if appropriate – sooner.
About PhysicianOne Urgent Care
PhysicianOne Urgent Care provides quality, easily-accessible, walk-in medical care for non-life-threatening illnesses and injuries. All 18  locations throughout Massachusetts, Connecticut, and New York are open 365 days per year; 8:00 a.m. to 8:00 p.m., weekdays, and 9:00 a.m. to 5:00 p.m., weekends and holidays. Experienced providers are on-site at all times. X-ray and lab services are available on-site. Insurance is accepted; self-pay options are also available. Parking is available at all locations.
Founded in 2008, PhysicianOne Urgent Care was the first in the market to be accredited and certified by the Urgent Care Association of America. PhysicianOne Urgent Care is a cost-effective alternative to the Emergency Room as well as a convenient alternative to primary care physicians during off or peak hours.
For more information, including a list of services, locations, insurances accepted, career opportunities, and more, please visit www.PhysicianOneUrgentCare.com.
Contact:
Andrea Tager ​
​Director of Marketing
​atager@physicianoneurgentcare.com
###
Source: PhysicianOne Urgent Care
Share:
---
Categories: Healthcare and Medical News, Sports Safety, Medical
Tags: boston bruins, concussion, concussions, hockey, sport injuries, youth sports
---