Broadway Choreographer Luis Salgado Returns to Axelrod Pac to Direct 'Ragtime'
Press Release
-
updated: Jan 22, 2018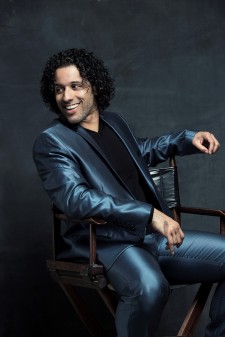 DEAL, N.J., January 22, 2018 (Newswire.com) - Broadway performer and choreographer Luis Salgado ("In the Heights" and "On Your Feet! The Story of Emilio and Gloria Estefan") returns to the Axelrod Performing Arts Center (APAC) to direct and choreograph "Ragtime, the Musical," his second show at this up-and-coming Jersey Shore theater. "Ragtime" will run for ten performances between March 3 and 25, and tickets are available at www.axelrodartscenter.com.
Salgado's first production at APAC, "In the Heights," was the theater's runaway success story and its first professional production. Salgado, having created the role of Jose in the original Broadway production, served as assistant choreographer to three-time-Tony-Award-winning choreographer Andy Blankenbuehler ("In the Heights," "Hamilton" and "Band Stand").
"Luis is the most inspiring and talented director we've ever had the pleasure of hosting," says APAC Artistic Director Andrew DePrisco. "The vision, passion and commitment he brings to his work elevates the performers and production team to a surprising new level. Audiences left our production of 'In the Heights' last season feeling like they'd actually seen the Broadway cast…and many others thought it was better."
"Returning to the Axelrod to explore 'Art with a Purpose' is a gift," says Salgado, whose company Salgado Productions is co-producing the show. "I am incredibly moved by 'Ragtime' and the importance of the story it tells, especially in this time where it feels like the question of 'Have we really come so far?' is particularly relevant."
That Salgado's production of "Ragtime" will bring new resonance to the material is no surprise to APAC CEO Jess Levy, who is delighted to see the director-choreographer again at the helm of a major production: "I fully trust Luis to recreate this remarkably beautiful show into something that will speak to all of us."
DePrisco agrees, saying, "Luis is very motivated to tell this story, and I know that, in his hands, it will be both timeless and timely."
Salgado believes that "Ragtime" is "a great reminder that in our country today we must look each other in the eyes and see that beyond skin color, we are all human first and foremost. What really makes us unique is our capacity to embrace one another, to deepen our humanity and to be aware of how it all can be diffused by the simple act of acceptance."
In addition to performing on Broadway in "In the Heights" and "On Your Feet!", Salgado appeared in the original company of "Women on the Verge of a Nervous Breakdown" with Laura Benanti, Patti Lupone and Brian Stokes Mitchell, as well as in "Rocky, The Musical." Other credits include: "The Mambo Kings," "A Chorus Line" and the play "The Ghost Dancer." Salgado's film credits include "Step Up 2 The Streets," "Enchanted," "Across the Universe," "The Great Observer," and "Dirty Dancing 2: Havana Nights."
While performing will always be important to him as an artist, Salgado is now focused on directing and producing via his company Salgado Productions, which is dedicated to making "Art with a Purpose," where his commitment to storytelling has led him to conceive and direct productions that tell original stories of Latin America. His work has been seen in Peru, Colombia, Holland, Puerto Rico, Chile, just to mention a few.
Throughout his career, Salgado has been honored as a choreographer and performer for his exceptional talents and ability to paint a story through movement. In January 2018, he received the Broadway World awards for Best Director and Best Choreographer for his work on the Spanish-language production of "In the Heights" in Washington, D.C. Previously he was selected "Gypsy of the Month" by Broadway World for his consistent work on Broadway and Off-Broadway.
Between auditions and beginning rehearsals at the Axelrod, Salgado returned to Puerto Rico to visit family and to present musical programs for the children and people of the island who were so hard-hit by Maria.
For more information, please visit: www.luissalgado.com, revolucionlatina.org, or salgadoproductions.com.
About the Axelrod Performing Arts Center
The Axelrod Performing Arts Center fosters artistic excellence by showcasing varied and distinct cultural programs that enrich the imaginative, intellectual, and creative soul while cultivating an appreciation of diverse communities through the pursuit of the arts. For more information, please visit www.axelrodartscenter.com.
Source: Axelrod Performing Arts Center
Share:
---
Categories: Performing Arts, Theater, Dance
Tags: Axelrod Performing Arts Center, Broadway Shows, Dance, Luis Salgado, Ragtime
---