Brazos Higher Education Selects Anovaa for Student Lending
Press Release
•
Mar 24, 2022
Texas non-profit student lender to provide leading financial technology to consumers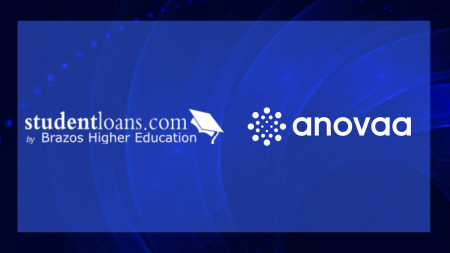 MALVERN, Pa., March 24, 2022 (Newswire.com) - Anovaa, a financial technology lending partner, announced today that Brazos Higher Education Service Corporation will use the Anovaa platform to offer students and families in Texas access to loan products to help finance their higher education. Anovaa will power the application technology, underwriting and processing in addition to funds management and disbursement to education partners. Additionally, Anovaa will support Brazos' customers using their full-service call center and operations team.
"We selected Anovaa as we have a shared commitment to ensuring the success of students," said Ben Litle, CEO of Brazos. "Anovaa brings together next-generation technology and industry experts that ensure a best-in-class customer experience for our students and their families."
"Anovaa has a rich history in helping power some of the biggest state-based student lending authorities in the country," said Jeff Milne, CEO of Anovaa. "Brazos has built an incredible student lending program, helping students and their families in Texas finance their higher education for over 40 years. I'm thrilled to leverage Anovaa's next-generation platform and loan operations team to further build on their mission."
Brazos is currently accepting applications for their in-school undergraduate and graduate programs at studentloans.com.
For information about Anovaa's platform and product offering, visit anovaa.com.
About Anovaa
Anovaa is a financial technology company designed to help lenders of all sizes stand up or digitally transform their loan programs. Using the Anovaa platform, banks, credit unions and other lenders can configure their end-to-end customer experience without standing up large internal operations or significant technology infrastructure investment. As part of Entech Consulting, Anovaa has helped lenders originate over $100 billion across personal loans, student loans and education refinance. For more information, visit anovaa.com.
About Brazos Higher Education
Brazos Higher Education is a Texas nonprofit student loan corporation headquartered in Waco, Texas, and is part of the Brazos Managed Companies, which have worked together to provide students and their families higher education assistance since 1975. Brazos' goal is to improve lives by promoting college affordability and helping students and parents save money on their student loans. Brazos loans are originated by Brazos Education Lending Corporation. Student loans have proven to be a needed resource to help students and parents finance higher education and Brazos has helped finance more than 2 million student loans. To learn more about Brazos and its student loan products, please visit studentloans.com.
Contact:
media@anovaa.com
(401) 315-4677
Source: Anovaa
Tags