Brandon Digital Designer Turned Illustrator Featured on Vermont CBS Affiliate for Imaginative Play Adventure Kits
Press Release
-
Apr 11, 2016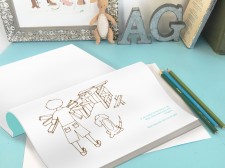 Brandon, Vermont, April 11, 2016 (Newswire.com) - WCAX-TV featured Carey Bunker, illustrator of the Addie & George story series, on March 28th, 2016, letting parents know there is still an option for kids and imaginative play in a world overflowing with mobile apps and screens.
Mother to three boys, Bunker admired the world that her youngest son, Liam, lived in creating stories from his Lego creations. This space of imagination reminded Bunker of her own childhood, and with an intent to foster her child's love for creativity, an idea was born. 
Bunker sketched the first ideas of Addie in 2013 and as the characteristics of this illustration came to life, Bunker had some doubts.
"I was concerned that in this electronic world we live in, Addie and George would get lost in the shuffle," Bunker confessed. "They're the complete opposite of many of today's kids. But then as I started to share my work, sneak peek by sneak peek, I realized there was a need for products that engaged children on many levels - products that would encourage imaginative play, outdoor explorations and learning."
A brother and sister duo, Addie and George were inspired by Bunker herself as a child, and little Liam. These fictional characters have dislikes (for example, brussel sprouts) and likes, ranging from dressing up to reading Harry Potter and doing anything they can out of doors.
"Addie is a little more prim and proper, she almost always wears a dress," Bunker says of these endearing fictional children, "and George is a wild man and he gets on her nerves at times."
These characters, that simply started as art prints for children, quickly took on a life of their own as Bunker continued on to create Adventure Kits which encourage outdoor, imaginative play. These tangible kits come with an Addie doll or Ace plushie, ideas to prompt play, both inside and outside, in case the weather is questionable. A backpack filled with cards to stir ideas for adventures, children can also go on scavengers hunts, make up stories with a "Story-starter card", and encourage kids to run, catch bugs, and dance.
"It's an easy way to fend off that, 'I'm bored,'" says Bunker. "Parents love it because they don't have to work as hard to come up with a gazillion ideas that kids today seem to want, and kids love it because they've got adventures at their fingertips and a friend to share them with."
Beyond her online requests, wholesale orders are starting to come in, as this East coast illustrator has already tapped into the midwest via Hazel General Store in Madison, Wisconsin.
"This is touchable imaginative play for children," exclaims Bunker, "Just like when we were kids!"
Addie and George are featured in nursery and kids wall art, and eight recently released vignettes of everyday life with the duo, that depict the brother and sister doing regular things like making snow angels and sharing an ice cream with their dog, Ace.
A coloring book is available for pre-sale, which launches late April, combines an outdoor activity element that will be available in both digital and printed versions. Bunker also has plans for a picture book to be released later this year.
"My dream is to have Addie and George be similar to the kind of play that is encouraged with American Girl Dolls," says Bunker. "What started out as an idea for charming, heirloom quality art prints and gifts, has turned out as something more than just the latest app or action figure."
The response continues to pick up momentum, as Addie and George venture out into the world, inspiring play and adventures, fit for any curious kid.
For more information about Addie & George, visit addieandgeorge.com.
Source: Addie & George
Share:
---
Categories: Retail, Games and Play, Family
Tags: gifts for kids, imaginative gifts, kids decor, kids gift, nursery art, nursery decor
---