Branded Paper Cups Primary Range of Products
Press Release
•
updated: Sep 20, 2017
Branded Paper Cups designs and manufacturers all different possible paper cups and containers, and ancillary products like Cup Lids and Ice Cream Cup Dome Lids, Napkins and Beer Mats. Here are a few of the most popular products revisited, as retold by Steve Morris, of Scyphus. Steve also talks about how they have been able to manufacture in UK and still quote surprisingly unmatched low prices.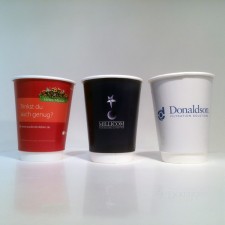 LITTLE HOUGHTON, England, September 20, 2017 (Newswire.com) - Scyphus as mentioned above, manufactures and designs bespoke paper cups, containers and popcorn boxes, but when auditing sales for the most sought after products, Steve Morris and Leslie Carr found from the sales report for the first quarter of 2017, that some products as expected are faring better than others, whereas some products are catching on faster than expected.
Products that top the list of the most sought-after ones are the usual ones; the takeaway coffee cups, the double wall paper cups branded to the client's logo and artwork, and printed and manufactured to perfection. These printed paper cups are the most sought-after product for coffee shops, food courts, shopping malls, gourmet cafe and dealers of cars, and virtually every company that serves coffee for sale or as complimentary drink to their customers in their customer lounges.
But there is a little difference in demand while coffee shops and other professional food and beverage service companies order across the entire size range, i.e. 16oz, 12oz and 8 oz. Non-food and beverage service companies who serve complimentary coffee generally ask for the 8oz and 12oz cups, 8oz being more in demand in this sector.
That is why calculating on overall demand, 12oz and 8oz double wall cups are the overall winners across all product ranges, and to be specific, the takeaway coffee cups are the most ordered of all products.
Cold Cups or Single Wall Paper Cups see a lot less demand almost all around the year, since most of Europe and of course the UK sees mostly cold to freezing weather, leaving only a very narrow summer season. Thus, the sale of soft drinks and other cold drinks are limited — especially in the UK — and most customer-centric businesses would prefer serving tea or coffee to people over a slush or a cold drink like soda and lemon in the UK's wet and cold weather.
So technically, Single Wall Paper Cups are the least in demand of all products for a major part of the year.
But, there is one particular size of the Single Wall Paper Cups that sees a constant demand all around the year: the 4oz Single Wall Paper Cup. This small cup is not sold as a cold cup. The 4oz cup is actually in demand because it is the paper cup version of the espresso cup. The espresso paper cup is small and single wall, the probable reason behind this usage being that it's usually a small shot, and is held by the rim while sipping; thus it doesn't require a double wall cup, which on the other hand can't be manufactured to the small 4oz size either.
The second most sought-after product after the Takeaway Coffee Cup is the Ice Cream Cup. Ice cream has always found preference over cold drinks in cold climates, since ice cream doesn't cause sore throats or other cough and cold ailments, since ice creams have to melt on your tongue before you gulp it, thus increasing the temperature of the fluid that enters your throat.
Ice cream cups along with the transparent dome lids are found to hold the second position and all our 8oz, 5oz and 3oz ice cream machines are perennially busy.
The third place is held by a rank outsider. It's not a paper cup of any form; it's the paper popcorn box, and as the winter sets in, popcorn boxes along with the 12oz takeaway coffee cup will see the sharpest rise in demand.
So this is the story of what is in demand in the paper cup world, and Scyphus promises to keep posting similar updates again in the future.
Source: Scyphus, UK
Related Media