Boosted by the Fast Food Industry, the Paper Cup Market Will Make a Quantum Leap in 2018
Press Release
•
updated: Feb 27, 2018
Blaine Hurts, president and incoming CEO as of 2018, Panera said that 2018 is the "Year of the Guest"; indeed, guests are more savvy today, and demand not just quality but more options and preferences today, and thus, the fast food market is going to see innovation and serious competition, and that is what the ancillary industry thrives on. Scyphus are pretty upbeat about this trend.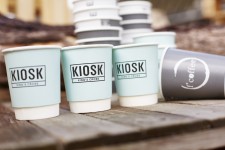 NORTHAMPTON, England, February 27, 2018 (Newswire.com) - As per Lez Carr of Branded Paper Cups manufacturer Scyphus, the competition in the food industry, especially the fast food industry always augers well for the paper cup industry. The more intense the competition, the better. Competition means that each outlet will try to beat the other in every way possible and that includes not just the food and drink they serve; it very much involves the utensils they are served in, and paper cups are part and parcel of fast food, deli and take away joints. Read on for further insight.
2018 is expected to be a furiously competitive year for the fast food industry. If this prediction may make certain business owners quiver, others in the paper cups market should see this shift as a major opportunity to strike the greatest deals. Indeed, experts forecast that the booming fast food industry will entail a similar massive demand for disposable paper cups. According to "Paper Cups Market: Global Industry Trends, Share, Size, Growth, Opportunity and Forecast 2018-2023", a recent study released by IMARC, this upsurge should keep amplifying for the upcoming years as well.
We see opportunity with third-party delivery. We are entering a testing phase with UberEATS to see how it drives incremental sales without jeopardizing the profitability of our stores. Online ordering will continue to grow. We kicked off 2017 with an online promotion encouraging customers to go to the head of the line by placing their order in advance through the Jersey Mike's mobile app or website. Momentum continued throughout the year, and online ordering sales are up 50 percent this year.

Hoyt Jones, President, Jersey Mike's Franchise Systems
Paper cups are the wisest solution for the on-the-go consumers
According to IMARC's latest survey, the paper cup industry definitely positions itself as a key area for investment this year. The expanding fast food industry is expected to give rise to a similar growth to the paper cup industry. As a matter of fact, the two industries are intricately linked by the simple fact that consumers are increasingly demanding on-the-go options, largely because of the hectic pace of life and highly mobile lifestyle. Worldwide, the dynamics of the food and beverage industry are being transformed as the number of on-the-go consumers is rising at a steady rate. Seeing people eating meals or having their coffee while commuting has become a normal scene of the everyday landscape. The pressing need to cater for the needs of these consumers has led to the evolution of restaurant concepts. In this light, it is also predicted that the eating out market will maintain a growth rate of approximately 3.4 percent throughout 2018 and 2019.
In the United Kingdom (UK), with more than 25 million people skipping breakfast at home and the average lunchtime dramatically squeezed to only 15 minutes, consumers wish to eat anywhere and at anytime. Annually, Britons spend over £6 billion just on takeaways. To engage with this imposing segment of consumers, the majority of fast food outlets are providing takeaways not only for lunch or dinner but for breakfast too. To cater for the needs and tastes of consumers, fast food outlets, cafes and bakeries are popping up at every corner. Takeaway food has morphed from the concept of unhealthy food into healthy yet convenient meals. Certain franchises have even adopted a completely different approach to traditional fast food by proposing on healthier and fresher local sourced ingredients.
Packaging is a source of strength for brands
One of the key pillars of this thriving fast food industry is, of course, food packaging. The latter should undeniably be adapted for a large array of takeaway food and beverages. For instance, selling soup as a takeaway food is nothing unusual today; gone are the days when one would immediately think of burgers or nuggets when thinking about fast food or takeaways. Packaging, hence, has to be similarly adapted to the food being proposed. Without a convenient one, a franchise may likely lose its unhappy clientele struggling with the containers or cups. No customer would like to have his takeaway container or cup turning soggy or mushy.
Yearly, Britons consume about 2.3 billion cups of coffee and by 2025, there will be more or less 32,000 coffee shops in the UK. Alongside coffee, many consumers are also drinking other hot beverages such as tea. To meet the demands of these consumers, franchises are increasingly having recourse to recyclable and biodegradable paper cups as disposable cups wholly made out of plastic are no longer an option. Paper cups are extensively being used around the planet to serve both hot and cold beverages such as coffee, tea and soft drinks amongst others. Coated or lined with polyethylene (PE), the paper cups are liquid resistant and prevent any leakage. They are generally recyclable.
Biodegradable paper cups are a solid investment
Nonetheless, as the recycling process is rather complicated, opting for 100 percent biodegradable paper cups is becoming the wisest choice. These fully biodegradable paper cups come with a plethora of benefits not only for recycling purposes but also in the interest of consumers too, apart from unarguable environmental benefits. Instead of being lined with PE, biodegradable paper cups are laminated with polylactic acid (PLA) plastic which is a bioplastic. Even if bioplastic may look and feel like traditional plastic made from petroleum-based products, it is created from renewable material such as corn or sugarcane; it is therefore fully recyclable, biodegradable and even wholly compostable. PLA decomposes back into natural elements in less than 60 days.
There are a number of factors that are driving the demand for paper cups across the globe. According to the study conducted by IMARC, people are increasingly conscious about the transfer of diseases and germs and hence avoid sharing the same containers or mugs and prefer opting for disposable paper cups. Apart from health reasons, consumers are also increasingly conscious about environmental impacts. In this light, they are more willing than ever to opt for 100 percent biodegradable paper cups even if it implies paying more for their cup of beverage.
Franchises have to adapt rapidly
Governments and stakeholders are framing policies across the globe to popularise these eco-friendly disposable paper cups to reduce the quantity of traditional plastic from the market, respect the environment and promote sustainability initiatives without stifling businesses from thriving in the food industry. The UK itself has proposed a "latte levy" on non-recyclable cups as a strategic solution to encourage brands and consumers likewise to opt for fully biodegradable and recyclable cups.
Brands and franchises can expect high returns on investment (ROI) by adopting 100 percent biodegradable paper cups. Statistics prove that companies which cater for consumers' sense of environmental responsibility note remarkable benefits in their bottom lines and achieve a competitive advantage in the market for the simple reason that they are able to maintain a more loyal customer base through sustainable initiatives.
Source: Scyphus