Blush & Whimsy Has Been Invited to the Cannes Film Festival as Part of the Cannes Gifting Suite
The company will officially release two new products coming out during Cannes including the Oscar Blush and Royal Blush.
Press Release
-
updated: May 1, 2018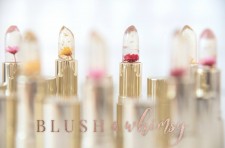 ALBUQUERQUE, N.M., May 1, 2018 (Newswire.com) - Blush & Whimsy is excited to announce that they have been invited to the 71st annual Cannes Film Festival to be part of the Cannes gifting suite. The festival will be held this year from Tuesday, May 8 through Saturday, May 19. Blush & Whimsy will provide its signature color changing lipsticks and launch two new products, their Oscar Blush and Royal Blush, while at Cannes. Blush & Whimsy will be live streaming on Facebook from Cannes from May 8 to May 12.
Event producer and gifting veteran, Nathalie Dubois, operates the DPA Cannes Gift Suite out of the Carlton Hotel, which is its 11th year. During its history, the gifting suite has been visited by celebrities including Charlize Theron, Richard Gere, Sharon Stone, Morgan Freeman, Scarlett Johansson, Carey Mulligan, Susan Sarandon, and many more.
"We're honored and excited that those attending the Cannes Film Festival will be able to experience the magic of our lipsticks for themselves," says Micaela Brown, founder and chief inspiration officer of Blush & Whimsy. "Our company has had such an amazing award season with our lipsticks included at both the Grammy Awards and the Academy Awards gifting suites. Being at Cannes is another amazing experience we are looking forward to attending."
Blush & Whimsy lipsticks are nothing short of magical. With the goal of creating a universally inclusive product, Blush and Whimsy's lipstick line changes color based on the pH and temperature of an individual's skin for a shade that is uniquely theirs. The FDA-approved lipsticks — which are not tested on animals — are made with luxurious ingredients such as cocoa butter, botanical extracts, and lavender oil.
The company was launched by Brown with a focus on social entrepreneurship and promoting inclusion of all in their product lines. She launched the company on the foundation that everyone is beautiful, and it's by celebrating what makes each person different that will redefine the meaning of true beauty.
Blush & Whimsy also supports the social good. The company has partnered with Adelante Development Center, Inc. in New Mexico to handle all of their packaging, fulfillment, and shipping. Adelante provides individualized support services for over 1,000 New Mexicans with mental, physical, and developmental disabilities as well as disabled veterans and the elderly. Brown is excited to be working with wonderful differently abled people doing incredible work.
For more information about the company along with Blush & Whimsy's complete catalog, visit BlushWhimsy.com.
About Blush & Whimsy
Founded in 2016 by Micaela Brown, Blush & Whimsy is a New Mexico startup offering their first product line, a color changing lipstick that interacts with the pH and temperature of each individual's lips to create a pink that is uniquely theirs. The company can be followed on Facebook, Instagram, and Twitter @BlushWhimsy.
Media Contact
Micaela Brown
Email: info@inspirepm.io
blushwhimsy.com
Source: Blush & Whimsy
Share:
---
Categories: Beauty and Personal Care, Celebrities
Tags: Adelante, Cannes, Cannes Film Festival, Cannes gifting suite, Fairytale Lipsticks, Take the Magic With You
---