Bloomfield Hills Law Firm, Dawda Mann, Recognized by Chambers in the Prestigious Chambers USA Rankings for Real Estate Practice Area 20+ Years
Press Release
•
Jun 9, 2023
Dawda Mann recognized for more than 20 years by Chambers USA for Real Estate Practice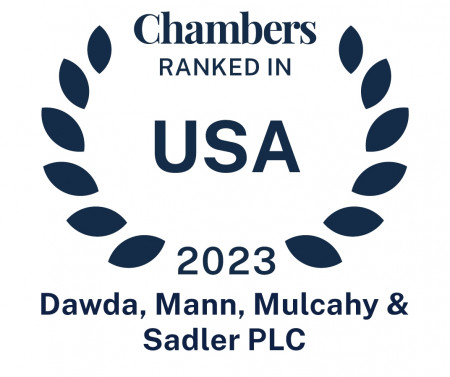 BLOOMFIELD HILLS, Mich., June 9, 2023 (Newswire.com) - Dawda Mann, a leading full-service business law firm, is pleased to announce that it has once again secured its position among the nation's leading law firms for real estate practice, as reflected in the 2023 Chambers USA rankings.
This accolade is a testament to the firm's unwavering commitment to providing exceptional legal services and innovative solutions to its clients in the real estate industry. The firm's comprehensive expertise in commercial real estate transactions, leasing, land use, zoning, and commercial and residential development matters continues to set a benchmark for excellence.
In addition, two of Dawda Mann's attorneys, Ed Dawda and Tyler Tennent, have been recognized by Chambers and Partners in the highly regarded Chambers USA rankings for their outstanding contributions to the real estate practice area.
Ed Dawda, a co-founder of Dawda Mann, has once again earned a well-deserved Band 1 Ranking in Real Estate in the Chambers USA rankings. With over three decades of experience in real estate law, Dawda has established himself as a trusted advisor and advocate for his clients. In addition, his exceptional knowledge of real estate transactions, development, and land use matters has consistently positioned him as a leading practitioner.
Tyler Tennent, a member at Dawda Mann, has been recognized by Chambers and Partners for his exemplary work in the Real Estate: Land Use area. Tennent's keen understanding of complex land use matters and his ability to navigate intricate legal issues have earned him the respect of clients and peers.
"We are thrilled to be recognized by Chambers and Partners for our firms' contributions to the real estate practice area," said Dawda. "Our inclusion in the 2023 Chambers USA rankings is a testament to Dawda Mann's dedication, extensive knowledge, and outstanding client service. We are immensely proud of our attorney's achievements and the recognition of our firm as a leader in real estate law."
Chambers and Partners, a renowned global legal research and ranking organization, conducts an extensive assessment of law firms and attorneys based on various factors, including legal expertise, client service, technical capabilities, and notable achievements within specific practice areas. As a result, the Chambers USA rankings are widely regarded as a prominent benchmark for excellence in the legal industry.
About Dawda Mann:
Dawda Mann is a full-service business law firm headquartered in Bloomfield Hills, Mich. With a strong commitment to delivering exceptional legal services and a client-centric approach, the firm has built a solid reputation as a trusted advisor to businesses and individuals across various industries. Dawda Mann's team of highly skilled attorneys provides comprehensive legal solutions in real estate, corporate law, litigation, employment law, estate planning, and more. For more information, visit dawdamann.com.
Source: Walker Publicity Consulting