Blood Thinner Eliquis Associated With Uncontrollable Bleeding in Users Consumer Safety Watch Warns
Press Release
•
updated: Nov 18, 2016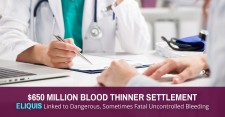 San Diego, CA, November 18, 2016 (Newswire.com) - ​Alan Christopher, a consumer safety advocate from Consumer Safety Watch is warning that Pfizer and Bristol-Myers Squibb's blood thinner Eliquis (apixaban) has been associated with uncontrollable bleeding in users and does not have an antidote, which significantly increases the chances of bleeding events leading to hospitalization or death.
According to allegations, Pfizer and Bristol-Myers Squibb used incompetent researchers in the ARISTOTLE study that the FDA based its Eliquis approval on, misled the public by failing to disclose the study errors, and failed to adequately warn Eliquis users about the risks associated with using a blood thinner that has no antidote.
What is Eliquis?
Eliquis is a "next-generation" blood thinner manufactured and marketed by Pfizer and Bristol-Myers Squibb, commonly prescribed to patients diagnosed with a heart rhythm problem called atrial fibrillation, to reduce their risk of stroke and dangerous blood clots.
Eliquis works by thinning the blood, which decreases the likelihood of blood clots forming, thereby reducing the risk of clots traveling to the brain and causing a stroke. Like Pradaxa and Xarelto, two other popular blood thinners currently on the market, Eliquis was developed as an alternative to warfarin, and aimed to exceed the older anticoagulant's effectiveness, while doing away with the need for frequent blood tests. However, unlike warfarin, Eliquis has no approved antidote, which means doctors are unable to reverse the blood-thinning effects of the medication in the event of a serious bleeding complication.
History of Eliquis
Since Eliquis first garnered approval from the FDA in 2013, the blood thinner has been marketed as a superior alternative to warfarin, an older-generation anticoagulant drug that has been on the market in the United States for more than 50 years. According to Pfizer and Bristol-Myers, Eliquis is safer and more convenient than warfarin, because the new-generation blood thinner resulted in fewer deaths in the ARISTOTLE clinical trial, and doesn't require regular blood monitoring during treatment.
However, serious concerns have been raised recently about the safety of Eliquis, after it was discovered that the ARISTOTLE study, which the FDA based its approval of Eliquis on, was heavily flawed.
According to a report detailed in Forbes, study flaws included inaccurate and missing data, failure to report deaths and other adverse events, patients receiving incorrect medications, and patients receiving incorrect dosages of medications. The FDA twice delayed its approval of Eliquis while waiting for the results of the ARISTOTLE study, which compared the safety and effectiveness of Eliquis to that of warfarin, and FDA reviewers and medical scholars have since criticized the results of the ARISTOTLE study.
Reported Side Effects of Eliquis
Patients taking Eliquis to reduce their risk of stroke and blood clots may be at risk for the following side effects:
· Internal bleeding requiring hospitalization
· Rectal bleeding
· Kidney bleeding
· Gastrointestinal (GI) bleeding
· Cerebral hemorrhages
· Death
The Forbes articles and other critics have suggested that Pfizer and Bristol-Myers Squibb may be culpable of the following allegations:
· Failure to warn – Manufacturers failed to adequately warn about the risks associated with a blood thinner that has no reversal agent.
· Fraud – Manufacturers fraudulently concealed adverse events in its Eliquis clinical trial in China.
· Negligence – Manufacturers were negligent in their design, research, manufacturing and marketing of Eliquis.
· False claims – Manufacturers misrepresented the safety of Eliquis in direct-to-consumer advertising.
Consumer Safety Watch advises that individuals concerned with the safety of their medication speak with the doctor to determine if safer alternatives may exist.
Source: Consumer Safety Watch
Additional Links