Bitcoin Diamond Launches BCD Apps Initiative in Partnership With Easy Data Feed
Press Release
-
updated: Mar 13, 2019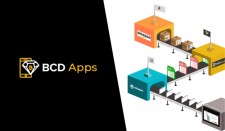 SINGAPORE , March 13, 2019 (Newswire.com) - The Bitcoin Diamond (BCD) Foundation has partnered with Easy Data Feed to license and use their developer platform to launch the BCD Apps initiative. This partnership will enable developers to design applications that encourage cryptocurrency adoption and help merchants to begin accepting crypto payments through the Chimpion platform. BCD Apps will be initially released in Indonesia before a wider launch in Asia and the Middle East.
The BCD Apps initiative seeks to educate developers to create solutions for merchants to effectively sell with cryptocurrency. Bitcoin Diamond will provide developer sponsorships, educational resources and support in bringing apps to market. Through Easy Data Feed, developers and merchants can easily extract inventory, pricing and product information directly from an online supplier portal into a usable spreadsheet.
"We believe that driving cryptocurrency adoption is a community effort," said Amelie Wu, BCD's director of global marketing. "For that reason, we want to incentivize talented developers to make it even more attractive for merchants around the world to sell with crypto. We look forward to seeing what innovative ideas stem from the BCD Apps initiative."
Applications will be made available for free to developers and will be available for merchants worldwide to purchase using BCD or Bitcoin (BTC). Skilled developers who have an interest in helping merchants adopt cryptocurrency and selling their own applications are encouraged to register their interest at https://www.bitcoindiamond.org/2019/03/13/bcdapps.
About Bitcoin Diamond (BCD)
Bitcoin Diamond is a Bitcoin fork that was created to solve the slow transaction confirmations and high threshold requirements of Bitcoin. Through BCD Pay, business owners are able to offer their products to a global market without needing to absorb expensive fees from international payments. Furthermore, with BCD Pay, business owners do not have to worry about costly chargebacks from indecisive or fraudulent customers.
Earlier this year, BCD debuted BCD Bazaar, an international marketplace that gives customers access to a wide range of products from across the world by accepting payments in Bitcoin Diamond (BCD) or Bitcoin (BTC).
Source: Bitcoin Diamond
---
Categories: Cryptocurrency
Tags: bcd, bcd apps, bitcoin diamond, cryptocurrency, easydatafeed, edf
---