Bio Green Introduces New Greenhouse Accessories
Press Release
•
updated: Oct 6, 2020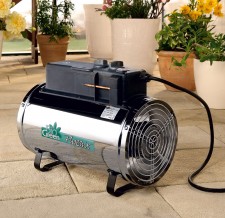 COLORADO SPRINGS, Colo., October 6, 2020 (Newswire.com) - A greenhouse can turn a short growing season into a year-round growing paradise. Bio Green Products has introduced greenhouse heaters and accessories that can make backyard greenhouses more productive.
Heavy-Duty Greenhouse Heaters
During colder weather, most greenhouses need a heating boost. The Bio Green Phoenix Heater offers high-end features at an affordable price. This energy-efficient heater has three heat output levels and can put out up to 9,554 BTUs. That's enough to keep approximately 180 square feet frost free, even in the coldest weather.
The heavy-duty built-in fan efficiently distributes heat throughout the greenhouse, and the built-in thermostat makes it easy to control the greenhouse temperature. This versatile heater comes with floor mounting brackets and hanging chains to make it easy to install in the perfect place.
For smaller greenhouses, the BioGreen Palma heater easily keeps 120 square feet warm. This small heater puts out 5,118 BTU using just 1,500 watts of power.
This floor-standing heater has a high-circulation fan to evenly distribute the heat. The stainless steel heater casing and energy-efficient German engineering will provide many years of worry-free use.
With the available Thermo 2 Digital Thermostat and external sensor cable, this heater monitors the greenhouse temperature and automatically turns itself on and off as needed.
The City Jungle Planter
The City Jungle is a high-tech sub-irrigated planter that works great in greenhouses. It provides an excellent growing environment for herbs and vegetables. Flowers and tropical plants also grow well in this self-watering planter.
The tough plastic City Jungle planter is 2 feet long by 1 foot tall and 1 foot deep. It is large enough to hold 9 gallons of potting mix. The two square feet of growing area is large enough for two large tomato plants or many smaller plants.
Water is added to the reservoir with a watering can or hose through the square hole in the front wall. The water reservoir holds an impressive 4.5 gallons. An optional trellis can be added to the City Jungle planter for growing tomatoes and other vining plants. The trellis can be extended to 10 feet tall.
Hydro Cup Watering System
Even when plants are on an automatic greenhouse watering system, there are always a few plants that prefer a little more hydration. Fortunately, there is an easy way to provide extra water directly to specific plants.
The Hydro Cup Watering Stake delivers water below the surface of the soil directly to the plant's root zone. Just remove the top and fill the cup with 2.5 liters of water. The water will slowly seep through the terracotta stake, so no water is wasted.
Hydro Cup Watering Stakes are great for thirsty plants including tropical flowers and vegetable plants. These watering stakes can be used in large pots and planters and are ideal for watering indoor plants while you are on vacation.
All of these greenhouse products are available at fine garden centers and BioGreen-Products.com.
Source: Bio Green Products
Additional Links