Beyond G7, Canada's Opportunity to Lead the Global Greening of Freight
Press Release
•
updated: Jun 14, 2018
The G7 failed to reach consensus, but cooperation between governments and businesses can yield immediate emission reduction worldwide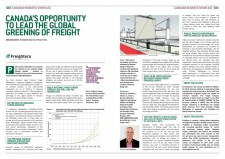 VANCOUVER, British Columbia, June 14, 2018 (Newswire.com) - The 2018 G7 Summit in Canada ended with the United States refusing to sign the G7 communique and leaders unable to make a unified commitment on climate change action, but businesses can still make a difference. In a thought leadership article on how to achieve immediate emissions reductions from global freight transport, "Canada's Opportunity to Lead the Global Greening of Freight," Canadian startup Freightera highlights the threat to climate stability from greenhouse gas emissions from global freight transport and shows how public-private partnerships can make immediate and rapid progress in emissions reduction.
Freightera was featured as the Canadian Business Showcase in the 2018 G7 Summit Edition of Climate Change – The New Economy (CCTNE). CCTNE is the leading climate change publication supporting the G7 2018 Summit. In the 2016 G7 Summit edition, Freightera authored "A Green Future for Freight," identifying the processes and technologies that can reduce freight transport emissions to near zero by 2050. In the new article for the 2018 G7 Summit, Freightera highlights the success of the North American Lower Emission Freight Transport Marketplace, created by Freightera in cooperation with SmartWay and Natural Resources Canada.
Eighty percent of the loads booked in the Freightera system are lower emission SmartWay-certified carriers and rail because these are the most cost-efficient companies. They have the best rates, and they get most of the revenue.

Eric Beckwitt, CEO, Freightera
"In the Lower Emission Marketplace, SmartWay-certified carriers and rail consistently get over 80 percent of the loads. Depending on the distance hauled, total rail segment and emissions reduction achieved by the SmartWay carrier, each of these loads can achieve up to 60 percent reduction in CO2 emissions today," notes Freightera founder Eric Beckwitt. "Remarkably, shippers achieve these results by pursuing lowest possible freight transport cost. With correct partnerships, adaptations of this marketplace can be quickly implemented in other countries, and in international maritime and potentially air transport."
Emissions reduction from global freight transport is important because international CO2 emissions from cargo ships and air freight are currently outside the UN Climate Change negotiation process, and they are predicted by the European Parliament to grow from seven percent today to 20-50 percent of global emissions by 2050. This emissions growth is particularly dangerous given that the World Meteorological Organization now predicts global warming, if not effectively mitigated, can produce sea level rise of 20-40-plus meters above present.
On April 13, 2018, the International Maritime Organization (IMO) adopted a new "Climate change strategy for shipping" to lower CO2 emissions to 50 percent of 2008 levels by 2050: "The initial strategy envisages for the first time a reduction in total GHG emissions from international shipping which should peak as soon as possible and reduce the total annual GHG emissions by at least 50 percent by 2050 compared to 2008, while, at the same time, pursuing efforts towards phasing them out entirely."
"DHL, the world's largest logistics firm, is committed to zero net CO2 emissions by 2050. Transport companies are back-ordering new zero-emission long-haul electric trucks. We have near universal agreement that zero-emission sustainable electric rail is the future of freight for long-haul continental freight transport," noted Eric Beckwitt in CCTNE. "Firms like Wallenius Wilhelmsen Group, NYK, EcoMarine Power and B9 Shipping are working on low and zero emission cargo ships, with aggressive timetables for roll-out starting in 2025. The burning issue is how to make rapid progress immediately with the current technology and fleets."
Numerous studies have documented the effectiveness of shifting freight from high to lower emission transport modes, which can reduce CO2 emissions by up to 60 percent per load. Operational measures on cargo vessels, like slow steaming and scrubbers, and cost-efficient retrofitting, like adding sail systems to existing fleets, can achieve combined emissions reductions of up to 50 percent. Many of these measures also result in immediate reduction of fuel costs by 20 percent or more. When transport companies pass even part of these cost savings to shippers, they can create the lowest cost service, which creates competition and an incentive for other firms to reduce cost and emissions as well.
"The key to immediate emissions reduction is offering rates that are both lower cost than available elsewhere and lower emission," notes Freightera's Eric Beckwitt. "Through our meetings and events at COP22 and COP23, and the selection of Freightera by Panasonic, Maersk, Union Pacific, BASF and others to join Plug and Play's first Global Supply Chain and Logistics Accelerator in the heart of Silicon Valley, we see a consistent message from the largest multi-nationals shipping freight and providing this essential service. Both are aware of the urgent need to reduce emissions, but none of them will do so unless the lower emission option costs the same or less.
"Cost savings is directing freight shippers to the lowest emission options at Freightera," Eric Beckwitt concluded. "Eighty percent of the loads booked in the Freightera system are lower emission SmartWay-certified carriers and rail because these are the most cost-efficient companies. They have the best rates and they get most of the revenue. As more transport companies increase efficiency and reduce emissions, they can also thrive. Our task at Freightera is to promote these highly efficient companies, bringing down the cost of shipping for our B2B shippers, accelerating the transition to new technologies and steadily decreasing greenhouse gas emissions and air pollution."
About Freightera
Freightera is creating a unified global marketplace for freight shipping. Starting in North America, Freightera is automating freight transportation and increasing operating margins for carriers and businesses shipping freight. Freightera creates partnerships and systems and promotes new technologies that allow businesses to find the best price and lowest emission transportation options. Over 7,000 manufacturers, distributors, wholesalers and retailers in the U.S. and Canada use Freightera for 24/7 online access to billions of all-inclusive freight rates and instant freight booking. For more information, see freightera.com.
Media Contact
Zhenya Beck
Phone: (800) 886-4870
Email: zhenya.beck@freightera.com
Source: Freightera
Related Media