Beverly Hills Real Estate Leader Alex Radosevic Meets Investors at Conference in Orange County, California
Beverly Hills real estate luminary meets with clients and others interested in alternative investment opportunities while at the prestigious Opal Group investment conference held in Dana Point
Press Release
-
updated: Dec 13, 2018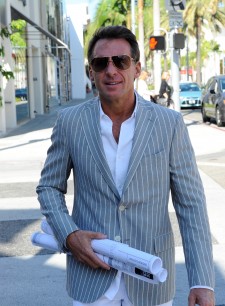 BEVERLY HILLS, Calif., December 13, 2018 (Newswire.com) - Noted Real Estate Broker/Investor and high-end Property Leader Alex Radosevic met with existing and new clients while attending the Opal Group's Alternative Investment Conference held in the heart of Orange County at the Ritz-Carlton, Dana Point from December 5 - 7, 2018. Radosevic, well-known in wealthy circles as the "go to" expert when it comes to real estate investing, met with individuals and family offices interested in tapping into his "golden touch" when it comes to high-yield real estate investment opportunities.
"I was able to talk with investors about several exciting new projects guaranteed to provide a return on investment that far exceeds the norm," Radosevic said. "This includes projects in the booming hotel segment, an industry that continues to grow and exceed expectations at every level," he continued.
Radosevic attracts attention wherever he goes based upon his track record and roster of wealthy clients. President of well-known Canon Properties and operating from a location in the heart of Beverly Hills, Radosevic handles real estate investments for family offices and high net worth individuals from throughout the United States and globally. His access to off-market properties and real estate deals that are exclusive to Canon coupled with his overall expertise and knowledge of the marketplace generally makes Radosevic a popular draw at events such as Opal's.
"For more than twenty years I have worked tirelessly to find the best possible real estate opportunities for my clients," Radosevic commented. "This isn't a 'job' to me, but rather an avocation; a passion. I love what I do, and I take great pride in making a real and genuine difference in the lives of others by being their eyes and ears when it comes to finding the best real estate deals available anywhere," he concluded.
Radosevic is also scheduled to attend events throughout 2019, including the well-known CRE-2019 conference in January held at the Waldorf Astoria, a stone's throw from his office in the prestigious Golden Triangle portion of Beverly Hills. Radosevic will be a featured panelist at the event where he will be sharing his expertise in technology and its impact on the commercial real estate industry.
Press Contact: Karen Norris - 310-273-1975 ext 106
Source: CANON Properties
---
Categories: Real Estate
Tags: Commercial Real Estate, Commercial Real Estate Brokerage Company, Family Offices, Forbes Real Estate Council, Investment Firm, Private Equity Investing, property management, Real Estate Asset Management
---