Retail Pop-Up Stores Are a Good News/Bad News Trend for Landlords, Says Real Estate Expert Alex Radosevic, President of Canon Properties in Beverly Hills
Press Release
-
updated: Feb 14, 2020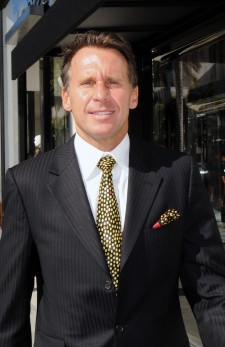 LOS ANGELES, February 14, 2020 (Newswire.com) - In the past few years, the pop-up store trend has helped revitalize many brick-and-mortar retailers, helping them burnish their brands and market products to a new generation of consumers seeking one-of-a-kind shopping experiences. Restaurants, boutiques, showrooms and galleries suddenly "pop up" in vacant storefronts, offering personalized experiences and unique entertainment, and then vanish as quickly as they appeared.
"For consumers, the pop-up shopping trend is a win-win, offering them unique experiences above and beyond the average brick-and-mortar visit," said well-known industry insider Alex Radosevic. "But for landlords, temporary stores are a 'good news/bad news' scenario. Not all pop-up shops are created equal. If landlords are not careful, the costs of leasing to pop-ups can burst their profit margins."
The Good News
For retailers, pop-up stores have become a go-to form of experiential marketing, as well as a low-risk way of testing new ideas and locations. For landlords, they are a good way to keep shopping areas more lively and increase foot traffic by continually offering something new for consumers to explore.
"Given the number of store closures in recent years, they can also prevent malls and shopping centers from looking like ghost towns," said Radosevic, who owns and manages a real estate portfolio valued at more than $2 billion. "Empty spaces are not just aesthetically unappealing, they can damage the value of a property if they remain vacant too long."
On the plus side, he added, landlords usually incur little risk by leasing space on a short-term basis, as long as the retailer has obtained the necessary permits from the city and mixes well with other tenants. "Pop-up shop leases usually last between six weeks and a year, with many retailers willing to sign month-to-month leases that could result in long-term tenancy."
The (Potentially) Bad News
"On the minus side, rents for pop-up shops tend to be lower than those secured by traditional leases, sometimes as much as 40 percent below lease value. Therefore, it is important to evaluate how the pop-up tenant plans to use the space before negotiating the lease.
"From the property owner's point of view, a pop-up concept works best when very few modifications are needed. Simple modifications are ideal; things that can be easily erected and then torn down. 
"Modifications are not a stumbling block to a deal because most pop-up tenants want an easy move-in/move-out phase, and landlords want little or no refit between tenants. As long as landlords do their homework in advance, leasing to pop-up tenants is usually a good bet."
A member of the prestigious Forbes Real Estate Council, Alex Radosevic is the founder of Beverly Hills-based Canon Properties, a market leader in real estate investing and property management for many of the country's wealthiest families and business owners.
Media Contact:
Karen Norris - Karen@CanonProperties.com
Phone: 310-273-1975 ext 106 or 424-235-8749
Source: Canon Properties
Share:
---
Categories: Real Estate
Tags: Los Angeles Real Estate, Real Estate Brokers in California, Real Estate Investment Advisory
---