Betty Moon Named Top 5 Trending Female Canadian Artist as Her New Music Video "SOUND" is Set for an April 12th Canadian Premiere!
Named one of the Top 5 trending Female Canadian artists, Betty will premiere her brand new music video "Sound", a new single from her latest album CHROME on April 12 in association with EXCLAIM Magazine.
Press Release
-
updated: Apr 11, 2017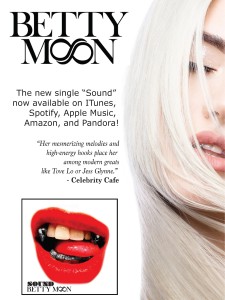 Toronto, Canada, April 11, 2017 (Newswire.com) - Multi-instrumentalist Betty Moon moved from Toronto to Los Angeles to expand her horizons as a singer, songwriter, producer and filmmaker. Best known for her smart lyrics, sultry voice, rock n' roll attitude and visionary appeal, the Evolver Music recording artist will premiere her brand new music video "Sound", the new single from her latest album CHROME on April 12th in conjunction with EXCLAIM (http://exclaim.ca/) magazine.
And Betty has been named one of The Top Five Trending Female Canadian Recording Artists! "Not all artists have had the career that Toronto born artist Betty Moon has enjoyed. With most recording artists quick to rise and fall, Moon has continued to grow in popularity with fans made every minute in Canada and beyond. With 7 albums under her belt, Moon has released her charting new single "Sound" and is poised to trend through 2017 with the upcoming release of Moon's new album 'Chrome'. Her unforgettable sound can be heard through her diverse catalog of releases, and past hit singles have included "Amourphous", "Thunder", "Time To Move On" and "Who You Talkin' To Man", which was featured in the worldwide hit John Wick."
The new music video is set in a fun, surreal dream sequence. Betty discovers Chrome in her trunk and takes her band and some celebrity friends out to celebrate "Sound". With cameo appearances by Kato Kaelin and Martin Klebba of Pirates of the Caribbean fame, Betty's video brings "Chrome" to life as they party through the beautiful landscape of Los Angeles, and dance into the night on a brightly lit, bass blasting, party bus. Full of color, energy, and whimsy, this video is the perfect focal piece to accompany Moon's first single this year leading into the release of her album, CHROME.
As an always-evolving tour-de-force, her songs are edgy, while maintaining a uniquely Betty Moon pop sensibility. Betty's music has been featured in a variety of television shows and films including Californication, Dexter, Bounty Hunters, Walking the Dead directed by Melanie Ansley, and Last Gasp starring Robert Patrick. Kato Kaelin tweets: BETTY MOON RULES!!
Betty adds, "We had a blast filming this video in Hollywood. With a fantastically fun cast, the band and our friends celebrating together, we all became elevated and inspired in this tight little space on the party bus.   It was essentially about getting lost in the music and allowing it to take you wherever you'd like to go whether it be by car, bus, train, jet, drone or your simply your imagination.  We're pretty excited about the amazing impact it's having and how people are embracing and responding to it."
Celebrate Café says: "Her mesmerizing melodies and high-energy hooks place her among modern greats like Tove Lo or Jess Glynne. Betty Moon demonstrates an eclectic range within today's seemingly-static pop genre. The LP is full of danceable beats and bass-heavy tracks, all of which seem perfectly prepped for radio play. "Sound" and "Demolate," the first two songs on the album, have the potential to bring Betty Moon into the mainstream. Exciting and amplified, "Sound" is an energetic first single that you'll want to spin on repeat. There's not a moment on this album that feels 'in genuine '. Betty Moon is already a recognized name in Canada, and Chrome proves why."
Visit website: www.bettymoon.com
Wednesday: http://exclaim.ca/music/article/betty_moon-sound_video
https://soundcloud.com/betty-moon/sound-1
https://www.facebook.com/BettyMoonmusic/
https://twitter.com/bettymoonmusic
Media Contact: 323.788.0741 and Handsonpr@aol.com
Label Contact: Evolver Music, Inc. | Katie Keller | Development Director
818.995.0055 | www.evolvermusicinc.com
Source: Evolver Music, Inc.
Share:
---
Categories: Celebrities, Music, Social Media, Television Programs, Artists, Radio Programs
Tags: Betty Moon, Chrome, Exclaim Magazine, Music Video Sound Premiere, Sound
---