Best Last-Minute Gifts for Home and Garden
Press Release
•
updated: Dec 6, 2017
HomeGardenandHomestead.com reveals its picks for the best home and garden gifts for the holiday season that can be ordered online for fast delivery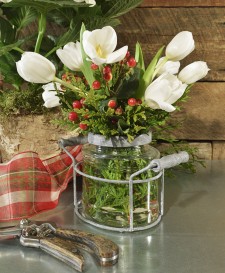 SANTA FE, N.M., December 6, 2017 (Newswire.com) - Looking for last-minute holiday gifts for homeowners and gardeners? It isn't easy to buy the perfect gift for everyone on a holiday shopping list. But here's an assortment of the best last-minute gifts to give to hard-to-please friends or relatives.
All of these gifts were selected by the editors at HomeGardenandHomestead.com because they're awesome – and they can all be ordered online for fast delivery.
Finding the right gifts for everyone on your Christmas list can be a real challenge. That's why the editors at HomeGardenandHomestead.com have put their heads together and selected gifts that will appeal to everyone - even cranky Uncle Chester."

Randall D. Schultz, Content Editor
Fun waterproof shoes are perfect for wearing in the garden
Nobody likes wet, cold feet. That's why Sloggers makes outdoor shoes and boots in a wide variety of colorful patterns (including flowers, chickens, cows and more). The newest print features delightful hummingbirds and flowers on a background of either blue or black – which is sure to make working in the garden, walking the dog or running errands in the rain a lot more fun.
The deep-lug treads give the made-in-America shoes excellent traction in water and mud. The boots and shoes slip on easily because there are no laces to tie or clips to fasten. Clean-up is easy – just hose them off! Women's shoes and boots are available in full sizes from 6 to 10. Sloggers shoes sell for $29.99 and boots sell for $39.99 at www.sloggers.com.
Dig this tool
Looking for a gift for an avid gardener? The new CobraHead "mini" Weeder is the perfect tool for precision weeding in flower beds, vegetable gardens and even in flower pots and containers. The CobraHead "mini" is smaller and lighter than the original CobraHead Weeder, so it's easier to use in tight spaces. The comfortable, ergonomically designed handle fits perfectly in smaller hands, so women and seniors love it. The handle is molded around the unique steel blade to ensure it can never work loose.
CobraHead tools are proudly made in the USA by a Wisconsin-based family business. The CobraHead "mini" Weeder and Cultivator hand tool sells for $21.95 at www.cobrahead.com.
An elegant way to display cut flowers
Bringing fresh flowers in from the garden and displaying them in a prominent spot indoors is a lovely way to add color and aroma to a room. The country style and practical design of the Jar Flower The holder makes it easy to display fresh-cut flowers virtually anywhere. Because the design is so simple and timeless, it is sure to fit in with any home's decor, which makes it a lovely gift for any flower lover.
The low jar, vintage wire mesh and matching top all create a stylish rustic accent, and the lightweight wire frame with handles makes this little vase easy to move around the house. The lid of the flower jar has a dome of wire mesh that serves as a built-in flower frog, making it easy to arrange flowers and have them hold their position. The flower jar and metal holder measures 5 inches tall, 4 1/2 inches deep and 8 1/2 inches wide, so it's the perfect size for a kitchen counter or even a windowsill. It sells for $18.95 from www.WaysideGardens.com, (800) 845-1124.
Enjoy the taste of fresh Italian herbs
The Italian Herb Jar Kit brings the taste of Tuscany to any kitchen. Just select a sunny spot, fill the reusable jars with water, add the included plant food and wick, and watch the beautiful and fragrant herbs grow. There's no need to worry about watering the herbs, because the self-watering system in the attractive glass jars delivers exactly the right amount of water and nutrients.
The Italian Herb Jar Kit contains everything needed to grow three varieties of Italian herbs — basil, oregano and Italian parsley. The colorful reusable jars, herb seeds, net pots, plant food packs, water-distributing wicks and growing instructions are all included. It's the perfect gift for cooks, gardeners and anyone who enjoys the taste of fine food. This Made-in-the-USA kit sells for $54.00 from WaysideGardens.com, (800) 845-1124.
Grow 10 heirloom vegetable and flower varieties
The Heirloom Favorites Collection of flower and vegetable seeds is the culmination of Park Seed's 145 years in the seed business. To help avid gardeners and beginners alike, Park Seed has assembled 10 of the most popular and best-producing heirloom seed varieties in one amazing seed collection.
This seed collection contains seven vegetable and three flower varieties, and it truly is the "best of the best" when it comes to heritage varieties that have stood the test of time. The Heirloom Favorites collection includes California Wonder Organic Bell Pepper, Mountaineer White Half Runner Beans, Hale's Best Organic Cantaloupe, Silver Queen Okra, Cherokee Purple Organic Tomato, Rainbow Blend Tomato and Moon and Stars Watermelon. It also includes three flower varieties: Love-Lies-Bleeding, Marigold Tiger Eyes and Sunflower Russian Mammoth.
The Heirloom Favorites collection makes a great gift for gardeners of all experience levels. It sells for $23.95 exclusively from www.parkseed.com, (800) 845-3369.
Keep a backyard flock cozy and warm
It's important to keep the body temperatures of animals regulated in the cold winter months, especially pets, flocks and animals that don't always fit into doggie-sweaters. The new Cozy Coop Flat Panel Heater offers a sleek, unobtrusive design that easily fits anywhere it's needed. This powerful heater combines both radiant and convection heat to protect birds and poultry from the cold. The Cozy Coop heater is safe to use around animals, and it uses just 200 watts – about 13 percent of the electricity of a standard 1,500-watt space heater.
The Cozy Coop is an ETL certified radiant heater for chicken coops. (An ETL certified Zero-Clearance product is allowed to be placed on or against combustible surfaces without causing a fire hazard or any harm to animals.) The heater has a built-in thermostat and an in-cord on/off switch for fingertip control. It silently keeps chickens comfortable and warm. The Cozy Coop Flat Panel Heater sells for $69.95 at www.cozyproducts.com.
Easy-to-grow plant features holiday colors
Anthuriums are popular houseplants because they bloom well in low light and the flowers stay on the plants for two or three months. Anthurium 'Red' is a compact plant with bright red flowers that has been developed to grow and bloom well in a small pot.
This tropical plant is grown in a grower's pot and then dropped into a decorative earth-tone earthenware cachepot that looks great in any room. The earthenware cachepot measures 4.5" high by 4.5" wide, so it fits nicely on an end table or a mantel. (The Anthurium can be transplanted directly into the earthenware pot at any time.) Anthurium 'Red' makes a wonderful holiday gift, and it's also a great choice for anyone who enjoys exotic plants. An Anthurium 'Red' plant in a decorative earthenware pot sells for $24.95 from www.logees.com.
Keep container plants hydrated with this watering stake
Sometimes the best solutions are the simplest, and this cool Recycle-a-Wine-Bottle Watering Stake is a perfect example. It's an elegant terracotta stake that helps keep container plants hydrated – while repurposing an empty wine bottle.
Just insert the terracotta watering stake into the soil of a potted plant and slide a wine bottle filled with water into the stake. Measuring about 7 inches long, the Recycle-a-Wine-Bottle Watering Stake sits in the soil and slowly enables water to drip out through a tiny hole in the pointed end. Plant roots stay nicely hydrated for 7-10 days. Mix fertilizer into the water to give plants a slow, even feeding of nutrients with their water. A two-pack of Recycle-a-Wine-Bottle Watering Stakes sells for $14.95 from ParkSeed.com.
Why dig holes when you can drill them?
Digging holes for spring-flowering bulbs or flower transplants can be hard work. Instead of digging holes, why not drill them with a bulb auger? The 3-inch by 7-inch bulb auger from Power Planter breaks up soil as it drills planting holes, which gives bulbs and plants great soil contact from the start. Just drill a planting hole using the bulb auger and drop a bulb or plant into the hole. Then fill the hole the loose dirt. It's as simple as that. The auger's 7-inch length digs every hole to the perfect depth.
Get the two most popular sizes of Power Planter augers (3" x 7" and 2" x 7") together for $37.79 directly from the Power Planter online store at www.powerplanter.com, and shipping is free.
American-made popcorn popper keeps a tasty tradition alive
The holiday season is all about traditions, and one of the best traditions is enjoying tasty, wholesome food and delicious treats. Here's an American-made popcorn popper that's been making tasty hot popcorn since 1819. A historical marvel and work of art, each popcorn popper is made by hand of stainless steel, so it will last for many, many years.
This exact design has been used by generations to make popcorn over a campfire, stovetop or roaring fireplace. It's made of durable stainless steel that won't rust, and the wooden handle keeps cool for safe use. Total length of the handle and popper is just over 24 inches, and the popper is almost 7 1/2 inches wide. The American-Made Popcorn Popper sells for $49.99 from lehmans.com.
Source: Home Garden and Homestead
Related Media