Berry Sleepy Recipient of the REX Award for the Second Year in a Row
Innovative Natural Berry Sleepy and Berry Awake 4-pack shots singled out in rapidly expanding category
Press Release
-
updated: Mar 4, 2019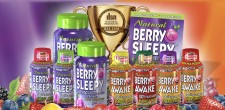 WESTLAKE VILLAGE, Calif., March 4, 2019 (Newswire.com) - The Drug Store News Retail Excellence Awards (REX) strive to aid retailers in identifying brands that can help make a difference in meeting consumer needs. This year, Drug Store News has selected the new Natural Berry Sleepy and Berry Awake 4-pack shots for recognition.
The innovative Natural Berry Sleepy and Berry Awake berry-based supplement 4-pack shots were among the products singled out as those that are making a difference in this rapidly expanding category.
Berry Sleepy is a powerful, natural super fruit-based sleep aid that had its start in Kansas City with two sleep-deprived parents looking for a natural way to get some much-needed sleep.
Adrienne and Greg Doring had tried many over the counter synthetic sleep aids but were increasingly put off by nasty side effects. The young couple decided they would set out to make a better, natural and effective sleep aid with no side effects.
Through Adrienne's brother, a pharmacist, the Dorings were able to work with the right formulators who understood their mission and Berry Sleepy was born.
The couple saw the need for their product in the marketplace and wanted to help others achieve a good night's sleep without synthetic additives or side effects.
In 2017 under James Lacey of Healthy Ventures' leadership, the company moved its base of operations to Westlake Village, CA.
From there Lacey and his team expanded the product line to include the Berry Sleepy 60 count (SRP $24.99) and 24-count veg caps (SRP $12.99) and the Berry Sleepy Shots in two great tasting flavors, Strawberry and Mixed Berry (SRP $3.99).
Healthy Ventures recognized consumer demand for a natural alternative to synthetic energy shots that wreak havoc on the body and expanded the line to include a natural way to wake up with the Berry Awake Energy Shot.
James Lacey said, "Berry Sleepy and Berry Awake have broad appeal from millennials to baby boomers looking for a healthy alternative to coffee and energy products or seeking quality sleep without morning-after grogginess or harmful side effects. Consumers are looking for alternative natural products. Berry Sleepy & Berry Awake answers the needs and gives a new meaning to 'Easy to Bed, easy to rise.™'"
Berry Awake is currently available in Strawberry and Mixed Berry, as well as two new flavors, Orange-Mango and Strawberry-Banana. All Berry Awake Energy shots are line priced at an SRP of $3.99.
The new 4-pack comes in Berry Sleepy Strawberry, Berry Awake Strawberry and Berry Awake Orange-Mango. (SRP: $14.99.)
James and his team have not only expanded Berry Sleepy's product line and added a new category with Berry Awake Natural Energy Shots; they have teamed up with the acclaimed Kathy Ireland. The Berry Sleepy team will be interviewed by Kathy Ireland on her TV show, Modern Living and Kathy Ireland to talk about innovative sleep solutions. Filming on the show has been completed and scheduled to air in early June 2019.
Berry Sleepy and Berry Awake are currently available at CVS, on Amazon, internationally, on their website, www.berrysleepy.com and shortly at military commissaries, where proceeds will be going to veterans in transition and their families.
Visit us at Natural Products Expo West, Anaheim, CA
Booth #N947 and at a sampling tent at the entrance to Hall C
March 6, 2019 - March 9, 2019
Contact: 800.540.2435   info@berrysleepy.com
Follow us:
https://www.facebook.com/BerrySleepy
https://www.instagram.com/berrysleepy
https://twitter.com/RealBerrySleepy
Source: Berry Sleepy/Berry Awake
Share:
---
Categories: Beauty and Personal Care
Tags: berry based supplements, Berry Sleepy, energy shots, Healthy Ventures, natural energy shots, natural sleep aids, plant based products, prebiotics, REX Awards, veg caps, vegan supplements
---