Ben Franklin Plumbing, a Top-Rated Plumbing Company in Wichita, Announces New Successes With Plumber Reviews Online
Ben Franklin is a best-in-class plumbing company in Central Kansas, and specifically Wichita. The company is proud to announce new successes at customer reviews.
Press Release
-
updated: Oct 1, 2019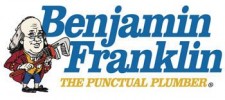 WICHITA, Kan., October 1, 2019 (Newswire.com) - Ben Franklin Plumbing, a team of best-in-class Wichita plumbers, is proud to announce a new crop of positive reviews on several sites that validate its position as one of the best plumbers in Central Kansas. The latest posts on Yelp, Google, and Customer Lobby are pouring in from Kansas residents ready to share positive stories about the best plumbing company in Wichita. The team is described using words such as "punctual, honest, clean, and friendly." Ben Franklin Plumbing Wichita has received new five-star responses for projects including hot water tank replacement, water filtration installation, and fixing dripping faucets.
"Customer reviews can tell a plumbing company how well they serve the community.  We are proud of the new influx of positive posts from our customers about our best-in-class plumbers," commented Jason Clark, manager of Ben Franklin Plumbing, "If they are happy with the service provided by our plumbers and then go on to recommend our technicians to others, we believe that's a positive all the way around!"
Residents of Central Kansas can read the new customer posts for Ben Franklin Plumbing at https://www.benfranklinwichita.com/reviews. Positive comments include support for stopped toilets, flooded basements, and emergency sewer repair. Special attention to customer service and clean respectful plumbers is also noted. The posts for plumbing repair can be reviewed Angie's List, Yelp and the Better Business Bureau at https://jm-seo.net/bfreviews.  Kansas residents can find 41 reviews posted for the best plumbing company in Wichita at the Customer Lobby site https://www.customerlobby.com/reviews/9445/benjamin-franklin-plumbing.  
THE BEST PLUMBING COMPANY IN WICHITA HANDLES EMERGENCIES FROM TOP TO BOTTOM
Here is the background on the release. Plumbing problems including flooded basements, overflowing toilets and backed up sewers can cause health risks for a homeowner. The damage to floors and walls could also be a concern. If a plumbing emergency occurs, customers might appreciate a technician to manage the problem in a clean and thoughtful manner. Central Kansas residents might expect the best plumbing company in Wichita to be considerate about leaving messes behind.  If a journeyman walks into a household in dirty boots and doesn't clean up the workspace on the way out, it can leave a bad impression.
When satisfied, Wichita residents share five-star reviews for skilled, prompt and respectful plumbing service. Fixing a flooded basement or cleaning a stopped sewer can be messy work. Ben Franklin plumbers cover boots before entering home. Works spaces are cleaned before plumbers leave in order to help cut down cleaning time for customers. New posts express appreciation for these clean practices. Locals learn the best plumbing company in Wichita manages 24/7 plumbing emergencies from top to bottom.
ABOUT BEN FRANKLIN PLUMBING OF DERBY, ANDOVER AND HAYSVILLE KANSAS
Ben Franklin Plumbing is a top-rated plumbing service, serving greater Wichita, Kansas and located at 2825 E. Kellogg Avenue. The company offers 24 hours, emergency plumbing service and sewer line repair not only to Wichita but to surrounding communities such as Derby, Andover, and Haysville, Kansas. Professionally licensed Derby KS plumbers are ready for plumbing problems such as drain cleaning, installing pump systems and water heaters, sewer line clean-outs and faucet repair. The company also replaces and installs faucets, garbage disposals, and toilets.  When searching for sewer line repairs, sewer repair and unclogging drains in Derby, Andover, Haysville or Wichita, Kansas, Ben Franklin Plumbing is available.
Web. http://www.benfranklinwichita.com/
Tel. 316-858-598
Source: Ben Franklin Plumbing
Share:
---
Categories: Plumbing
Tags: emergency plumber, Plumber, Wichita plumber
---