Become DiCaprio's Neighbor in a 48-Acre Paradise
48-acre beachfront parcel with 10,400 ft. of waterfront available for sale by Coldwell Banker - located approximately four miles away from Leonardo Di Caprio's island, Blackadore Caye
Press Release
-
updated: Nov 17, 2017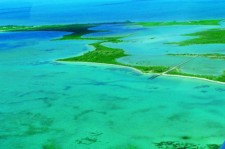 AMBERGRIS CAYE, Belize, November 17, 2017 (Newswire.com) - Grab this once in a lifetime opportunity to become the proud owner of a 48-acre beachfront parcel on Bracilette Caye. This is a heads up to all investors and developers, you wouldn't want to miss out on this one from Coldwell Banker. It is a stunning paradise surrounded by a large expanse of lush green fields and bright turquoise waters.
Bracilette Caye boasts of prime location features that make it a hot cake property. It is adjacent to Ambergris Caye – Belize's no. 1 tourist destination. It is also located approximately four miles away from Leonardo Di Caprio's island, Blackadore Caye. Blackadore Caye is a small island already experiencing massive development. It has received approval to become an ultra-luxury modern resort, with villa prices worth upwards of $10 million.
There is so much potential invested in this amazing parcel of land, its expansion possibilities and development capabilities are endless. It is currently the next rated tourist destination, closely following behind in the trails of Ambergris Caye and Blackadore Caye.
The buyers who are lucky to acquire this property will surely find good value for their money. It is constituted of several unique parcels of land, all fully equipped and ready for construction. The property has sufficient space to accommodate a 108-villa resort and a 2,400-foot runway.
It also has a protected bay area that is safe from storms and strong winds. There are provisions available for acquiring an additional parcel of land and extending the runway to over 3,000 feet. You will be able to fly from Miami right to your property!
One of the main incredible features of this amazing island property is its large 10,400 feet of waterfront. It is filled with limestone base right at the surface, making it possible for an easy build. Its landscape is blessed with nice tranquil elevations, stretched out miles of pristine sandy beach, picturesque stone outcroppings and walking trails.
The welcoming nature of this fine tropical wonderland has attracted some notable personalities to the island. The founder and CEO of Houston-based Rap-a-Lot Records, James Prince (also referred to as J. Prince), has just recently purchased a two-acre island one mile away from it. He currently has a sprawling villa fully constructed on the property.
Visitors to Bracilette Caye always have exciting stories to tell about the island. The travel route within and around the property are well connected and expertly developed. It is located at a 10-mile distance away from San Pedro Town and 18 miles from Caye Chapel Golf Course. It is also located six miles away from the most exclusive island resort of Belize Cayo Espanto.
Buyers are also welcome to purchase the neighboring 25-acre island ($1,890,000 US). This patch of land is separated from the subject property by a 40-foot natural channel with a small bridge linking it to the 48-acre island.
Both these properties when combined together would create a massive 73-acre site that is ripe for development. The site would be ideal for the construction of a world-class resort or an elite waterfront subdivision equipped with its own airport. Zoning possibilities would allow for the construction of up to 200 villas on the site.
Also, upon the completion of the runway, visitors would be able to board direct flights from the Belize City International Airport to the island. The trip will only last 10 minutes and will not require connecting flights through the San Pedro regional airport.
The Belize City International Airport currently operates daily flights to Miami (one hour 45 minutes), Houston (two hours), Cancun (45 minutes) and a host of other countries in Central America. Expectations are very high in regards to the volume of travelers that will be servicing these routes, pending the completion of the developmental projects on the island.
This 48-acre beachfront property on Bracilette Caye is at present the lowest-priced per-acre beachfront property in the entire Ambergris Caye area. Don't waste any more time! The price is set to go higher as soon as the construction on Blackadore Caye is underway in early 2018.
Contact Coldwell Banker – Belize' number one property development company, today, and grab the offer while it lasts! It is a fantastic opportunity for developers and investors alike, and it comes with a potential for tremendous growth in the next couple years.
Source: Coldwell Banker, Ambergris Caye
Share:
---
Categories: Travel, Tourism, Real Estate Investments
Tags: Blackadore Caye, Bracilette Caye, Leonardo Di Caprio's island
---