Beacon Light Launches in Livingston/Walker 
Press Release
-
updated: Feb 23, 2017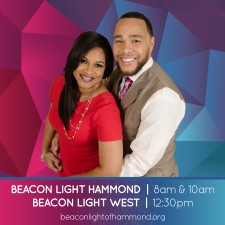 Hammond, LA, February 23, 2017 (Newswire.com) - Unto him be glory in the church by Christ Jesus throughout all ages, world without end. Amen. – Ephesians 3:21
The membership listened to His calling, instructing them to build and expand to invite those in Livingston Parish to experience the word of God and His glory at Beacon Light. Located at 27988 Walker South Road in Walker, the church offers Sunday service at 12:30 p.m. and an additional service on Thursday nights at 7 p.m.
"This project, called Beacon Light West, is fulfilling our vision of distinguishing the church as a ministry leader in the 21st century,"  said Elder Dennis R. Hebert, Jr. "Expanding the church's reach will allow us to share God's word with more people and serve the community's need in His name, showing His grace."
The church is a multi-ethnic and multi-cultural ministry. Beacon Light's Hammond location will continue to have 8 a.m. and 10 a.m. Sunday services with weekly pastoral Bible study on Wednesdays at noon and 7 p.m. The 10 a.m. Sunday service is streamed live online for those unable to travel to the church. 
"Our mission is to inspire, instruct and educate our members and visitors," said Elder Hebert. "The church has a fully operating Ministerial Alliance, a mass choir, women's and men's ministries, child care and other in-house ministries. Outreach programs are geared toward meeting spiritual, physical and emotional needs."
The Beacon Light Baptist Church is a word and love-centered ministry designed to minister to the total man. For more information about the Hammond or Walker locations, call (985) 429-7545 or visit beaconlightofhammond.org.
Source: Beacon Light
Share:
---
Categories: Ethnic and Multi-Cultural, Religion, African American
Tags: Bible Study, Church, Expansion, New Location, Religion, Worship
---