BC.Game Surpasses Competition With New VIP Rewards and Industry-Challenging 1% House Edge
Press Release
•
updated: Mar 11, 2020
Utilizing the Lightning Network and dozens of cryptocurrencies, BC.Game is ahead of the curve. VIP Members have all-new benefits coming soon.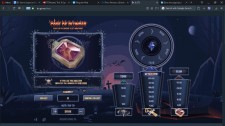 LAS VEGAS, March 11, 2020 (Newswire.com) - BC.Game recently demonstrated that its new slot game has more favorable odds for players than the current alternative options. The edge is uncommonly low, at 1%.
The popular Lightning Network Dapp Directory, Lappzap.com shared some insights about industry expectations and explained how BC stacks up to comparable sites.
The emphasis is that BC.Game had a measurably higher expected Return-to-Player, or RTP, for all tested games.
Cryptocurrency game sites are being held to higher standards by regulatory guides and by the expanding community of players.
Not only has BC.Game taken every possible step to comply with regulatory guidelines as they change, but also, BC.Game has continuously updated features for players, based on user feedback.
A complete detailed list of VIP Benefits will be released to the public in the coming days.
To learn about cryptocurrency, The Lightning Network or to chat with other crypto users, visit BC.Game to join the fun.
Investors are always invited to join the site bankroll, to earn from community game activity.
Warning: All activity on a cryptocurrency game site can put your coins at risk and you can lose your coins. BC.Game is for entertainment only. If you are not having fun while playing games of chance, you may need help with problem gaming. Resource links are available on BC's support page. Although everyone wishes to win, players must only spend coins that they can lose without causing distress.
​Press Contact: Chris Butler
Press Email: ChrisBin702@Outlook.com
+1-702-758-4209
Join The Telegram Conversationhttps://web.telegram.org/#/im?p=s1455160288_10180869326332695762-
Source: BC.Game