BC Game Partners With FIO Social Media
Press Release
•
updated: Sep 20, 2019
FIO Social Media Has Integrated BC Game Into Their Games And Dapps Portal That Is Accessible Via Their Social Media Platform.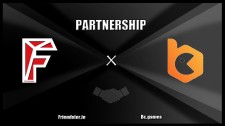 LAS VEGAS, September 20, 2019 (Newswire.com) - FIO Social and BC Game have entered into a partnership with the goal of strengthening each other's foothold in the blockchain, social media and iGaming industries.
FIO social hosts a social media platform with a long list of features including but not limited to, tipping for premium content, blogs, pages, groups, a built-in cryptocurrency wallet, and a marketplace. FIO prides itself on the fact that they do absolutely no data mining and no content manipulation. They have an immersive gaming portal with more features coming soon.
FIO Social was founded in Denver, Co. by its CEO, Troy Jones. Although FIO social has a cryptocurrency token used on the FIO platform, they are completely self-funded and never held an ICO or any other fundraising round. FIO has an extensive technical team that is building the groundwork for a very ambitious social media platform.
BC Game is a multi-currency gaming platform that is also a Bitcoin Dapp, or decentralized application, built on Bitcoin's Lightning Network. BC Game has been in operation for two years and has had to continuously scale their platform to receive the constant influx of new users.
"FIO Social will introduce new prospective customers to the BC Game platform. By exposing BC.game to an audience that spreads beyond crypto. With over 20k users in 6 months FIO Social is seeing astronomical growth. BC.game will also have a Pro account in FIO Social for direct advertising to users," said Troy Jones.
Continuing his explanation of how he sees BC Game as a perfect fit for his platform, Troy said,
"FIO Social supports hybrid and non-hybrid projects. As more companies flirt with the idea of blockchain, FIO Social envisions more hybrid projects taking shape. FIO Social is headed in the multi-chain direction and will use our hybrid platform to bring this to reality."
The integration of BC Game into the FIO social media platform is complete and accessible through FIO's Dapp portal.
Source: BC Game
Related Media
Additional Links