Bay Area Women Against Rape (BAWAR) to Join Protesters at Whole Foods CEO Speech
Press Release
•
updated: Mar 8, 2017
Nonprofit Bay Area Women Against Rape (BAWAR) is joining advocacy groups to lead a protest at Whole Foods CEO John Mackey's San Francisco speech. Advocates urge Mackey to disavow spiritual leader, former rabbi, alleged sex abuser Marc Gafni. The NY Times first reported Mackey's affiliation with Gafni. Mackey is the scheduled keynote speaker at a Conscious Capitalism Bay Area Conference.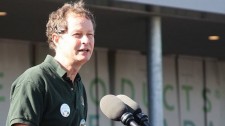 San Francisco, California, February 23, 2017 (Newswire.com) - ​​​​​​​​​​​​​​​​​​​​​​​​​Bay Area Women Against Rape (BAWAR) has joined a consortium of advocacy groups, leading a protest at a speech by Whole Foods CEO John Mackey in San Francisco on February 28, urging "Sexual Violence Accountability." The advocacy consortium is led by Peaceful Hearts Foundation, a nonprofit organization founded by Matthew Sandusky, one of six adopted children of Jerry Sandusky (former Penn State football coach and convicted pedophile).
Julie L. Golston, Certified Rape Crisis Counselor, Sexual Assault Response Team (SART) Coordinator at BAWAR is a scheduled speaker at the protest.
"There's a culture of silence around [child sexual abuse]. I believe Whole Foods has an opportunity to really shape that conversation."

Matthew Sandusky, Founder and Executive Director, Peaceful Hearts Foundation
Advocacy leaders are calling for Mackey to disavow Marc Gafni, a former New York rabbi accused of sexual abuse. Gafni is currently leader of California nonprofit think tank The Center for Integral Wisdom.​
Mackey is the scheduled keynote speaker at HigherPurpose17: Conscious Capitalism Bay Area Chapter Conference​. He is a founding board member of nonprofit Conscious Capitalism, Inc.​, and co-author of the book Conscious Capitalism: Liberating the Heroic Spirit of Business.
The New York Times first reported Mackey's association with Gafni in December 2015. The Times reported Gafni describing one of his accusers:
"She was 14 going on 35, and I never forced her." The Times also reported:
"A co-founder of Whole Foods, John Mackey, a proponent of conscious capitalism, calls Mr. Gafni 'a bold visionary.' He is a chairman of the executive board of Mr. Gafni's center, and he hosts board meetings at his Texas ranch."
The Times' story precipitated a wave of follow-up items.
The New York Daily News reported Gafni denying allegations of abusing two girls in the 1980s, then ages 13 and 16; he stated they were willing partners.
Sara Kabakov identified herself as the girl whom Gafni described as "14 going on 35." She came forward publicly for the first time, writing in the Forward: "I Was 13 When Marc Gafni's Abuse Began."
More than 100 rabbis and Jewish leaders undersigned a petition to Whole Foods: "Stop Marc Gafni from Abusing Again," citing, "many, repeated and serious allegations, both public and private, former and recent."
Mackey silently vacated his position as board chair of Gafni's center in April 2016, as reported by the Forward.
In May, The Washington Post reported on coordinated protests at Whole Foods stores in New York City and Los Angeles. Protesters urged Mackey to break his silence about Gafni.
Mackey issued a statement in June, declaring his loyalty to Gafni, as reported by the Forward.
"Loyalty and the presumption of innocence are important values to me, so I will not join those who are condemning him," Mackey said. "I am, at once, presuming Marc's innocence and firmly standing against what he's accused of."
Mackey's Whole Foods Market Blog was updated in June: videos of his discussions with Gafni were removed. The blog post says his involvement with Gafni is "strictly a personal relationship."
In November, soon after news of Donald Trump's vulgar brag of sexual assault made headlines, Gafni tweeted: "Donald Trump is an Outrageous Lover."
In December, 130 advocates, including leaders from Faculty Against Rape (FAR) and the National Alliance to End Sexual Violence (NAESV), signed an open letter to board members of Whole Foods And Conscious Capitalism, urging Mackey to disavow Gafni. The open letter was published on Feminine Collective.
Gafni has never been charged with a crime. Protest co-organizers the Stop Abuse Campaign and Protect NY Kids are lobbying for legislation; the Child Victims Act will eliminate statutes of limitations in New York state, where Gafni's accusers claim they were abused. A petition to state lawmakers urging the bill's enactment has garnered more than 69,000 signatures.
Industry experts, business and ethics professors have criticized Mackey's association with Gafni, noting potential ramifications for the two corporations he leads.​
Sandra J. Sucher, Professor of Management Practice, Joseph L. Rice, III Faculty Fellow, Harvard Business School, and author, The Moral Leader: Challenges, Tools, and Insights:
"Mackey's fellow board members of Whole Foods and Conscious Capitalism have a legal duty of care to act in and protect the best interests of their organizations. They need to ask how Mackey's association with Gafni may affect the reputation of the entities."
Speakers at the protest include former model, author and advocate Nikki DuBose, board member of Peaceful Hearts Foundation, as well as members of RAINN Speakers Bureau, the country's largest anti-sexual violence organization.
PROTEST:
When: Tuesday, February 28, 11am - 1pm
Where: Omni Hotel, 500 California Street (at Montgomery St.), San Francisco
Source: Peaceful Hearts Foundation
Related Media