Bay Area Global Health Education Leader Collaborates With Pre-Departure Innovator Debuting Standard-Setting Online Preparation
Child Family Health International joins forces with Seattle-based Omprakash to offer students of Global Health industry leading pre-departure training for service-learning programs
Press Release
-
updated: May 22, 2017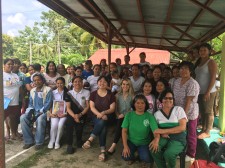 San Francisco, California, May 22, 2017 (Newswire.com) - Globalization is taking hold of all aspects of society. When it comes to global experiences for students, scholars such as Dr. Jessica Evert recognize that adequate preparation is essential. Known in the sector as "pre-departure training," a San Francisco-based non-profit, Child Family Health International (CFHI), is collaborating with online learning innovator Omprakash EdGE to set a new standard for pre-departure training. CFHI partners with over 200 universities to expand global offerings in the arena of global health and has a 25-year track record of standard-setting approaches.
According to CFHI Executive Director Dr. Jessica Evert, "CFHI is investing in the Omprakash EdGE platform to provide added benefit and rigor for CFHI scholars who are embarking on a life-changing experience that is only fully realized with preparation that lays foundational knowledge, ethics, and self-awareness." CFHI has over 35 programs in 10 countries, and will add the EdGE platform to existing preparation with Fortune 500 cross-cultural effectiveness leader Aperian Global.
Omprakash has been working since 2004 to make international service-learning more ethical, educational, and affordable, and its EdGE online learning platform (www.omprakash.org/edge) is a key pillar of this effort.  Willy Oppenheim, Omprakash Founder and Director, notes that "we are thrilled to be working with CFHI to help them deepen their students' learning and pre-departure training. While many organizations in this space are content to simply ask students to read a few PDFs before departure, CFHI is clearly committed to fostering authentic dialogue and rigorous reflection, and the EdGE platform is purpose-built with these goals in mind."
About Child Family Health International:
Founded in 1992, CFHI (http://www.cfhi.org) is a non-governmental organization (NGO) operating at the grassroots level to provide transformative global health education experiences and community empowerment in underserved communities around the world. CFHI offers 30+ Global Health Education Programs designed to broaden students' perspectives about global health — as well as a variety of community health initiatives and projects — in developing countries including Argentina, Bolivia, Ecuador, Ghana, India, México, Philippines, South Africa and Tanzania.
Source: Child Family Health International
Share:
---
Categories: Non Profit, Healthcare, Colleges and Universities
Tags: Community Engagement, Pre-departure Training, Service Learning
---