​B-Real, DNA Genetics and PRØHBTD Media Announce Digital-First Reality Series, 'Pimp My Grow'
'Pimp My Grow' is First Production From Executive Producer B-Real
Press Release
-
updated: Jun 12, 2017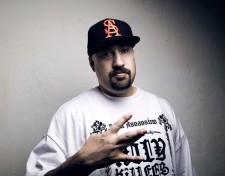 Los Angeles, CA, June 12, 2017 (Newswire.com) - B-Real, DNA Genetics and PRØHBTD Media, have joined forces to produce a new digital first reality series titled, "Pimp My Grow," aimed at cannabis enthusiasts.
DNA Genetics, one of the oldest and most respected genetics and grow experts in the Cannabis industry will visit Cannabis growers around the country and "Pimp Their Grows." Some growers may be new to the industry, looking to set-up their first personal grow for medical reasons, while others are building out industrial-sized indoor operations. All of them have one thing in common; they are looking to harness DNA's best-in-class expertise.
"We're psyched to meet with amateurs as well as experienced growers to help them grow the biggest, healthiest and most special plants! And we're going to bring along a few of our friends to help out," said DNA's Don/Aaron.
B-Real added, "I've seen a ton of good and bad growers and grows in this space.  Nothing compares to the work that the DNA guys do. They will literally pimp out some grows. This is going to be unreal and unprecedented."
See more at www.prohbtd.com/pimpmygrow.
Drake Sutton-Shearer and Josh Otten from PRØHBTD Media added, "Viewers will experience the thrill of growing with some of the best technology available. DNA and B-Real are experts in what they do, so it's a pleasure for us to help them show the world just what it takes to pimp out a grow."
The completed video series will result in seven episodes that showcase each grow operation and the hosts' expertise in helping each grower with their set-up. The series will initially be distributed across the PRØHBTD MEDIA network to millions of viewers and then licensed for global content distribution.
B-Real and DNA Genetics will be working with some of their friends to provide product and service support when optimizing each grow. From lighting and nutrients to harvesting and storage, these world-class companies offer some of the best products and services on the market to ensure the highest quality plants and yield.
Added Greg Muller, CEO of leading LED lighting company Spectrum King: "We're excited to be a part of this series and work with these cannabis industry leaders to help show audiences how our technology can help increase potency yield and significant cost savings for growers."
Learn more at www.prohbtd.com/pimpmygrow
About B-REAL
With his work in the pioneering hip-hop group Cypress Hill, rapper B-Real became something of a hip-hop legend for several reasons. Most immediately, his trademark rhyming style, featuring an exaggeratedly nasal whine and a jazz singer's skill at staying just behind DJ Muggs' already sluggish beats, was one of the most instantly recognizable flows of the 1990s. Furthermore, B-Real and his partners Sen Dog and DJ Muggs were the first Latino hip-hop stars, ushering in a richly varied sub-genre of hip-hop that thrives to this day. Finally, Cypress Hill's fervent proselytizing on the subject of marijuana legalization both brought the subject to its highest public awareness since the days of Cheech & Chong and paved the way for a generation of weed-happy middle-class high-school kids to discover and identify with hip-hop to an even greater degree than before.
About DNA Genetics
DNA Genetics, one of the most important seed companies in the world, has been at the forefront of the cannabis industry and culture for over a decade. DNA has won more than 150 awards worldwide at the most prestigious events and trade shows for their contributions to the cannabis industry, making it the most-awarded company in the world. DNA has won the illustrious High Times 'Top 10 Strain of the Year' award more than five times, is the only seed company to have received every award presented at the High Times Cannabis Cup events and was inducted into the High Times Seedbank Hall of Fame in 2009. Working with the medical and scientific community has been a priority, helping to provide alternative solutions to the current pharmaceutical approach. Collaborations with the Unconventional Foundation for Autism and Israeli Research are some of the examples. DNA Genetics is also very proud of their new partnership with Canadian Licensed Medical Producers, Tweed in Ontario, Canada. When working within the medical community, DNA Genetics is committed not only to effective medicine, but also to combining all beneficial parts of the plant for a better experience and more effective results for the patients.
About PRØHBTD MEDIA
PRØHBTD MEDIA provides world-class video production, digital marketing and branding solutions for more than 50 brand partners in the cannabis industry. As the leading content studio, PRØHBTD also produces original video and editorial with multi-platform distribution across the PRØHBTD Media Network, which includes prohbtd.com, AppleTV, Amazon Prime, Roku, Metacafe, Dailymotion and more, reaching 100+ million monthly consumers and business owners.
To learn more, contact whatsgood@prohbtd.com
Media Contact: handsonpr@aol.com
Source: PROHBTD
Share:
---
Categories: A&E News, Celebrities, Music, Television Programs, Radio Programs, Arts and Entertainment
Tags: B-REAL, DNA Genetics, PIMP MY GROW, PROHBTD
---