Axelrod Pac Presents "Mamma Mia!"
Press Release
•
updated: Feb 12, 2019
The Hit Musical Based on the Songs of ABBA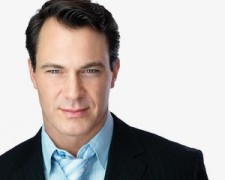 Deal, NJ, February 12, 2019 (Newswire.com) - "Mamma Mia!", the smash hit musical based on the songs of ABBA, will feature four Broadway veterans, including Matt Bogart (Jersey Boys) when it premieres at the Axelrod Performing Arts Center, running March 8-24.
Over 60 million people worldwide have fallen in love with Mamma Mia! The longest-running jukebox musical in Broadway history, with nearly 6000 performances, it has played in 50 countries and inspired two major motion pictures.
This singing and dancing extravaganza is the story of a young woman's search for her birth father—it features a hilarious web of relationships between a mother, a daughter, three possible dads, and an unforgettable trip down the aisle.
ABBA's signature 1980's score, including the title song and hits like "The Winner Takes It All," "Dancing Queen," "SOS," and "Knowing Me, Knowing You," make Mamma Mia! one of Broadway's most entertaining musicals of all time. The Axelrod production is the first on the Jersey shore and is being directed and choreographed by the legendary Barry Ivan.
Artistic Director Andrew DePrisco, whose guidance and vision has transformed the Axelrod PAC into one of the most talked-about professional theaters in the state, is thrilled to welcome Ivan and his team to the production.
A nationally recognized director and choreographer, whose career includes work in the New York theater as well as TV and film, Ivan's long resume of New York and regional credits include many of the top theaters in the nation.
"I look forward to bringing this production of 'Mamma Mia!' to audiences at the Axelrod," said Ivan. "It's guaranteed to make you 'dance, jive and have the time of your life,' while at the same time, illustrate how relationships forged in the past resonate in the present."
Matt Bogart, whose recent appearances on Broadway include leading roles in "Jersey Boys," "Elton John and Tim Rice's Aida" and "Miss Saigon," will make his Jersey Shore debut starring as Sam.
"We've never assembled a cast with so many stars," said DePrisco. "Matt Bogart is one of the go-to leading men on Broadway, and all three female leads have Broadway credits."
Playing Sam's ex-wife Donna is Michelle Mallardi, whose Broadway career started in fairy-tale fashion as Belle in Disney's "Beauty and the Beast." Playing Sophie, her daughter, is Sarah Lasko, the Dorothy from the spectacular national tour of Andrew Lloyd Webber's "The Wizard of Oz." Her fiancé Sky will be played by a promising University of Michigan actor Charlies Patterson.
In addition to Mallardi as Donna, her best girlfriends Tanya and Rosie will be played by Doreen Montalvo ("In the Heights" and "On Your Feet") and Heather Jane Rolff ("Shrek"), respectively.
The production team features Broadway lighting designer Paul Miller ("Legally Blonde" and "Amazing Grace"), musical supervisor James Cunningham, music director/conductor Garrett Taylor, sound designer D.J. Potts, costume designers Mark Happel and Bob Jacobson of Scaramouche, set designer Fred Sorrentino, prop designer Susan Bloir, stage manager Sean Patrick Francis and wig designer Derek Alfano.
"For an evening or afternoon of feel-good entertainment, nothing beats 'Mamma Mia!' Who can resist an ABBA tune? Few shows leave the audience literally dancing in the aisles," says DePrisco. "We're perfectly aware that 'Mamma Mia!' is the height of fluff, but we're giving this the Broadway treatment, and let's face it, even the ancient Greeks did a comedy once in a while!"
To purchase individual tickets, visit www.axelrodartscenter.com or call the box office at (732) 531-9106 ext. 14. Ticket prices for "Mamma Mia!" are: Premium Adult: $64, Regular Adult: $58, Premium Senior: $56, Regular Senior: $50. Group and student discounts are available.
Source: Axelrod Performing Arts Center