Axelrod Contemporary Ballet Theatre Presents "The Jungle Book"
Press Release
•
updated: Jan 4, 2019
An original 'dance-musical' that's an exotic fusion of east and west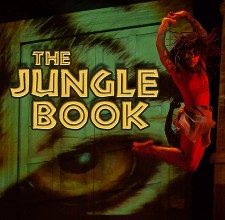 Deal Park, NJ, January 4, 2019 (Newswire.com) - The Axelrod Contemporary Ballet Theater, Monmouth County's newest (and only) professional ballet company, will present the first performance of its 2019 season, the world premiere of "The Jungle Book," on February 2 and 9 at 8:00 PM, February 3 at 3:00 PM, and February 10 at 1:00 and 5:00 PM.
"We're thrilled to announce the first in our upcoming series of exciting, fun dance events," says Axelrod Contemporary Ballet Theater Artistic Director and Choreographer Gabriel Chajnik. "'The Jungle Book' is not your run-of-the-mill ballet! It's an original 'dance-musical' that's an exotic fusion of east and west in terms of music, culture and dance."
"The Jungle Book" is a wholly-immersive experience that incorporates lighting and modern projection technology with costumes and headpieces designed by world-famous artists, with an ensemble of live musicians, and a distinguished troupe of professional dancers.
According to Chajnik, "This relatively new dance genre complements and builds upon the Axelrod's outstanding reputation for musical theater. The story and the emotional content are relayed through projections, percussion and various dance forms, thus creating an integrated entertainment experience."
"The Jungle Book" is an exciting retelling of Rudyard Kipling's collection of stories about a boy adopted and raised by wolves, who fulfills his quest for identity, love, and belonging. "The Jungle Book," with ballet and contemporary choreography by Chajnik, will feature an exciting collaboration with classical Indian dance choreographer Sudha Shekhar Devulapalli.
The performance is unique in that it crosses traditional cultural boundaries in both music and dance, including original music by composer and sitar player Neel Murgai, juxtaposed with classical and folk music, as well as Bharatanatyam dance and contemporary ballet.
Performing live onstage, Murgai and tabla percussionist Shivalik Goshal are both members of the highly regarded Brooklyn Raga Massive. Music Director Jason Tramm is arranging the score and leading a small ensemble of exceptional string players.
This 'dance-musical' will feature Bharatanatyam dance, a type of classical Indian dance, choreographed by Sudha Shekhar Devulapalli, founder of the Kalanjali School of Dance.
A leading school for classical and contemporary Indian dance, the Kalanjali School of Dance has received numerous awards in dance competitions like the most coveted East Coast Bollywood dance competition, Naya Andaz, FIA and Naach Revolution to name a few. Devulapalli trained and received diplomas in both the Kathak and Bharatanatyam genres of dance from Prayag University in Allahbad, and she performed in India and abroad before starting her school in N.J.

The ballet will include sets designed by Fred Sorrentino, lighting by Erik Herskowitz, properties by Susan Bloir, costumes by José Solis, and masks and headpieces designed by Tentacle Studios, whose clients include Lady Gaga, Kesha, and the Royal Ballet.
To subscribe to the Axelrod Contemporary Ballet Theater's season or to purchase individual tickets, visit www.axelrodartscenter.com or call the box office at (732) 531-9106 ext. 14. Ticket prices for "The Jungle Book" are: Premium Adult $54; Regular Adult $48; Premium Senior $46; Regular Senior $40; Students $26. Group, senior and student discounts are available.
Source: Axelrod Contemporary Ballet Theater