Awesome Holiday Hacks With Lauren Makk on Tips on TV Blog
Press Release
•
updated: Nov 21, 2017
Fabulous Lifestyle Expert Shares Trends and Hacks for the Holidays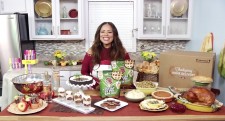 ATLANTA, November 21, 2017 (Newswire.com) - ​Lauren Makk has spent a lifetime perfecting her "Affordable Luxury" signature approach to design. That is why the popular television host, interior design professional, home and life stylist has been featured on numerous television series. Just in time for the holidays Makk shares some timely "holiday hacks" for surviving and enjoying the season! A life hack is a millennial saying that means "a strategy or technique adopted to manage one's time and daily activities in a more efficient way," which makes perfect sense during the holiday season when we are all trying to fit more into our busy lives. With that in mind, the holiday party season is here! Lauren shares some unique and interesting tips and tricks to help avoid letting holiday entertaining become too stressful.
A HACK THAT WILL IMPRESS AND SAVE TIME
If you are short on time, leave it up to the Holiday Experts at Boston Market. New this year, Boston Market is offering a Thanksgiving Home Delivery program. It is the perfect solution for anyone who wants to spend less time stressing in the kitchen or picking up food, and more time with friends and family. Choose from five fully prepared and pre-cooked meal options to feed four to 12 people and have it shipped to you directly before Thanksgiving. They will ship frozen, so all you have to do is thaw and heat and your meal will be ready in 2-3 hours. Place your order at BostonMarket.com while supplies last!
HACKS FOR MAKING SOMETHING SPECIAL FOR THE HOLIDAYS
A great baking holiday hack is to use Stevia In The Raw Bakers Bag. It allows bakers to cut calories by replacing half of the sugar with this zero-calorie sweetener derived from the stevia plant. It measures cup-for-cup with sugar so no conversion is needed. A recommended tip is to only swap out half the sugar the recipe calls for to achieve proper browning, rising and caramelizing. Visit Intheraw.com to check out a bunch of reduced-sugar baking ideas for the holidays, like a delicious Chocolate Peppermint Truffle Tart.
HOLIDAY HACKS FOR BEVERAGES
For those who love serving a holiday punch, this may be an easy way to stay within budget while impressing your guests. This season try Smirnoff vodka, the world's favorite vodka. Its quality has stood the test of time and it does not break the bank. It is perfect for holiday entertaining! This year serve a Kissed Caramel Mule Punch. Combine Smirnoff Kissed Caramel, ginger beer, apple cider and simple syrup into a punch bowl. Rim copper mugs with caramel sauce. Pour over ice in the copper mug. Make it Instagram-worthy by garnishing individual servings with an apple slice. But remember, always drink responsibly. For more information, visit www.Smirnoff.com.
ONE HACK THAT PEOPLE MAY OVERLOOK DURING THE HOLIDAYS
A hack that people typically overlook during the holidays is keeping the bathroom smelling fresh. Do not fret because V.I.Poo is to the rescue. V.I.Poo is pre-poo spray that traps nasty smells where they belong, in the bowl, leaving a pleasant scent behind. It is also the perfect stocking stuffer sure to elicit a few laughs and probably some silent appreciation. For more information, visit www.airwick.us/vipoo.
Contact: tipsontv@gmail.com
Source: tipsontv, lauren makk
Related Media