AutoCloud Releases Reverse Terraform, Named High Performer for Cloud Infrastructure Automation by G2
Press Release
•
Apr 4, 2023
DevSecOps automation platform releases technology that generates secure, deployment-ready Terraform from existing cloud resources to help organizations achieve 100% IaC coverage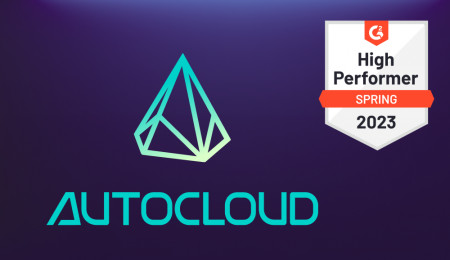 SEATTLE, April 4, 2023 (Newswire.com) - AutoCloud, a B2B platform that unifies Day 1 and 2 cloud operations, has been recognized by G2 as a High Performer for Spring 2023 in the Cloud Infrastructure Automation category. AutoCloud also ranked in first place for "Ease of Use," "IT Discovery," "Dashboard and Visualizations," and "Most Likely to Recommend."
AutoCloud further solidifies its position at the leading edge of infrastructure automation with the recent release of Reverse Terraform. This functionality empowers DevOps professionals to achieve 100% Infrastructure as Code (IaC) coverage with minimal time and resources by automatically generating compliant and secure IaC from existing cloud resources.
"DevOps teams are eagerly embracing IaC because it allows them to automate the tedious, error-prone parts of building and managing cloud resources while eliminating configuration drift. But a major problem still remains: What do organizations do about all of their pre-existing, unmanaged cloud resources?" said Tyson Kunovsky, co-founder and CEO of AutoCloud.
"Our Reverse Terraform functionality allows engineers to easily bring those pre-existing resources under management without needing to convert thousands of uncodified resources to Terraform by hand — a process that can take months or years to complete."
AutoCloud currently offers a free plan that allows customers to experience the platform's full functionality, including automation tools such as Reverse Terraform and IaC Blueprints for organizations using AWS, Azure or Google Cloud.
AutoCloud achieved High Performer status on the Cloud Infrastructure Automation Report by receiving positive reviews from verified users compared to similar products in the Cloud Infrastructure Automation category.
"Rankings on G2 reports are based on data provided to us by real software buyers," said Sara Rossio, Chief Product Officer at G2. "Potential buyers know they can trust these insights when researching and selecting software because they're rooted in vetted, verified, and authentic reviews."
About AutoCloud: AutoCloud is a SaaS or self-hosted platform that ensures engineering teams effectively manage the full DevSecOps lifecycle through proper use of Infrastructure as Code (IaC). Its suite of tools shifts security and compliance left, and eliminates expertise bottlenecks that prevent organizations from using IaC at scale. AutoCloud is based in Seattle, Washington. To learn more, visit us at www.autocloud.io or follow us on LinkedIn and Twitter.
Source: AutoCloud