Augmented Reality Sets Foot in the Screen Printed Glass Decoration Industry
Press Release
-
updated: May 15, 2019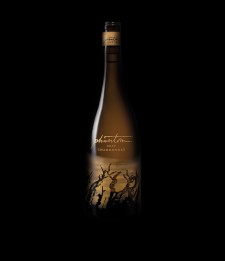 Napa Valley, CA, May 15, 2019 (Newswire.com) - Napa-based company Bergin Screen Printing and Etching has always been at the forefront of new and unique ways to create wine bottle labels that are both unique and memorable. Recently, they have taken the screen printed glass decoration(ACL) industry into new territory by producing Augmented Reality(AR) labels for Bogle Vineyards' Phantom Chardonnay bottles. Unlike Virtual Reality(VR), which puts you into an entirely digital scene, AR lets you view the world around you through a personal device that then adds in digital effects.
Over the past year, Auston Design Group along with San Francisco-based tech company Tactic worked on a redesign for the Phantom Chardonnay bottle. Phantom's original paper label, which was eye-catching in its own right, has been replaced with a new revamped, screen-printed label depicting a haunted vineyard that is blanketed in a ghostly golden mist. This design wraps around the bottle and is accented with an elegant, 24-karat gold Phantom logo.
In the wine and spirits industry, AR is a way to engage consumers in a fresh and effective way. While AR is already a growing trend in the world of paper labeling and packaging, it is not common yet in other mediums of package decoration. This marks the first time that the screen-printed glass decoration world and the Augmented Reality world have come together.
Bogle Vineyards has also produced an Augmented Reality Wine Labels app to coincide with their new release. By viewing the bottle in the app with your device's camera, the imagery of the bottle is set into motion. Vines begin to grow and crawl and a shadowy figure slowly emerges, making for a vividly haunting experience of the Phantom that is truly mesmerizing. You can experience the Phantom wine bottle design for yourself via its feature in the back of the May/June issue of 'Spirited' magazine, or you can see it in person by grabbing a Phantom Chardonnay available at many fine retailers.
ABOUT BERGIN SCREEN PRINTING AND ETCHING
Bergin Screen Printing and Etching, began in 1989 as a small, family-run business in Napa Valley, CA and eventually grew to become one of the top leaders and innovators in the wine bottle screen printing industry. Bergin's focus is using unique and cost effective alternatives to paper wine bottle labels in order to increase their clients' brand value. When it comes to screen printed and etched wine bottle labels, Bergin's designs are artisan-quality and one-of-a-kind.
Please contact us at https://www.berginglass.com.
Source: Bergin Screen Printing and Etching
Share:
---
Categories: Wine
Tags: Napa Valley, Vineyards, Wine, Wine Bottle Decorators, Wine Bottle Etching, Wine Bottle Screen Printing
---