Audrey Morris Cosmetics International Features Metallic Lipsticks and Lip Gloss
Make A Statement With The Company's New Line Of Highly Pigmented, Nourishing Metallic Lip Color
Press Release
-
Oct 19, 2016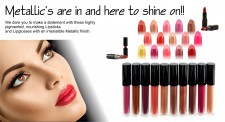 POMPANO BEACH, FL, October 19, 2016 (Newswire.com) - Audrey Morris Cosmetics International, a private label cosmetics and skin care manufacturer, introduces an edgy line of irresistible metallic finish lipsticks and lip gloss. The lip-line is available in several metallic shades from which to choose.
Moisturize and improve lips texture with the company's new line of flashy lip gloss and lipsticks. The long-lasting lipstick goes on smooth and it will give a lustrous look of rich metallic color. These glamorously bold and richly pigmented metallic lip colors are perfect for special occasions.
The private label cosmetics company is continuously finding ways to expand their line of reputable beauty and skincare items. Recently, they have launched new skin care packaging, a luxury 2016 fall collection, and now the launch of a metallic lip line this October 2016.
"At Audrey Morris, our primary focus is our number one commitment…to provide our clients with a one-stop shop that delivers opportunities for your name products to be in the spotlight for brand recognition, excellent profit margins, and customer loyalty," said Mary Ann Lovre, President of Audrey Morris Cosmetics International. "Let Audrey Morris International bring your business to the pinnacle of its potential with outstanding formulations, beautiful packaging and attractively priced private label skin care and color cosmetics."
Browse their line of metallic lip color today at www.audreymorriscosmetics.com.
About Audrey Morris Cosmetics International
Audrey Morris Cosmetics International, a manufacturer of high-quality Private Label Skin Care and Cosmetics, was established in Canada in 1965 by fashion model Audrey Morris. Audrey Morris Cosmetics manufactures and distributes a large collection of market-ready private label skin care and color cosmetics. It is the company's mission to provide its clients with the finest products, makeup, and packaging the beauty industry has to offer.
Audrey Morris Cosmetics is highly recognized for its innovative full-service and attention to detail. Some clients, both large and small worldwide, include Salons, Dermatologists, Estheticians, Professional Beauty Schools, and well-known Makeup Artists. Products offered range from skin care products to luxurious lipsticks, eye shadows and blushes, to velvet-like foundations, powders, and pencils.
For more information, please visit http://www.audreymorriscosmetics.com/, call 1-800-826-8287 or email amc@audreymorriscosmetics.com.
Source: Audrey Morris Cosmetics International
---
Categories: Beauty and Personal Care, Manufacturing, Beauty and Personal Care, Production and Manufacturing, Beauty and Cosmetic Products, Dermatology/Skin Diseases
Tags: Audrey Morris, Metallic Lip Gloss, Metallic Lip Glosses, Metallic Lipstick, Metallic Lipsticks, Private Label Cosmetics, Private Label Lip Gloss, Private Label Lipstick, Private Label Makeup, Private Label Skin Care
---