Attorneys Bring Healthy Inspiration to Los Angeles' Children
Press Release
•
Mar 24, 2022
Los Angeles Trial Lawyers' Charities partnered with El Nido Family Centers and Play It Forward on the weekend for 'Kids Helping Kids'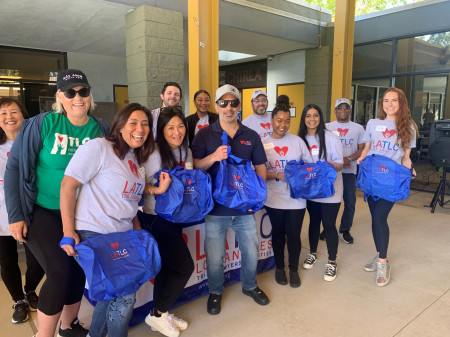 LOS ANGELES, March 24, 2022 (Newswire.com) - Los Angeles Trial Lawyers' Charities (LATLC) was delighted to lend a helping hand to its partner charities El Nido Family Centers and Play It Forward at "Kids Helping Kids" on Saturday, March 12, 2022. The attorneys from Los Angeles County took time out from their busy schedules to join volunteers at El Nido's Pacoima FamilySource Center and the Gang Reduction and Youth Development (GRYD) program and filled gift bags containing items to inspire active and healthy lifestyles.
Over 200 LATLC duffel bags were filled with P.E. equipment for the families to use at home including balls, jump ropes, and other sporting equipment, as well as hand sanitizer, LATLC stress hearts, and other items to help promote health and well-being in the community. The P.E. equipment donated to these families in need by Play It Forward is the same P.E. equipment that it has donated to schools across Los Angeles County to motivate kids to stay fit and active.
"Kids Helping Kids was an incredible opportunity for LATLC volunteers to see firsthand the difference that they are making for the disadvantaged in the community," says Los Angeles Trial Lawyers' Charities 2022 President Steve Vartazarian. "We were honored to be part of this event and work with El Nido Family Centers and Play It Forward to help promote a healthier way of living."
Source: Los Angeles Trial Lawyers' Charities