Athletes, Entertainers & Law Enforcement Unite With Selah Freedom to Eradicate Sex Trafficking
World-Class Immersion Tour supported by NFL & WNBA Greats and other athletes and professional teams to be announced in the coming weeks.
Press Release
-
updated: Oct 12, 2018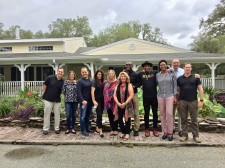 SARASOTA, Fla., October 12, 2018 (Newswire.com) - ​On Wednesday, October 10, 2018, the co-founders of Selah Freedom- Elizabeth Melendez Fisher – CEO and Laurie Swink – Vice President of Culture & Education hosted an Immersion Tour for NFL Legend Tony Richardson, WNBA Champion/2x All-Star/Gold Medalist & Washington Mystics Assistant Coach -Asjha Jones, Singer/Songwriter/Actor DeeMo and NYC Entertainment Attorney Cabot Marks, Partner Marks Di Palermo. Also joining the tour that was led by MistyLaPerriere, B.S.Outreach Coordinator & Law Enforcement Liaison, were Sarasota law enforcement agents Captain John Todd, Sgt. Jeffery Ball and Lt. Scott Mayforth.
The private tour provided a glimpse into how innocent American children are sold on the streets, as well as how they connect with law enforcement and Outreach team liaisons, eventually bringing them into one of Selah Freedom's safe homes. The notable group took time away out of their schedules to take a full tour which included going to the Selah Freedom Assessment and Residential homes where they had an opportunity to meet with the survivors who are in the Selah Freedom program and hear personal stories first-hand. "Through our Immersion Tour, it is exciting to see the reality of the services Selah Freedom provides to sex trafficking survivors. When you see the results and hear about the personal victories from Selah Freedom survivors, it propels us to do more because each survivor is loved, valuable and needed in this world, stated Laurie Swink."  
"The private stories that the survivors shared with us, were heartbreaking, but to hear the women speak about the Selah Freedom Programs and how they are making an impact on their lives, has convinced me that I need to do my part in assisting them in continuing to expand their network. I'm truly honored to work with these powerful co-founders and their dynamic team," said Tony Richardson. "I know the Arizona Cardinals are committed to supporting Selah Freedom as they launch a Southwest Residential safe house campus in Arizona in 2019 and I plan to speak to other NFL teams about the many ways they can assist Selah Freedom.
"When I met Elizabeth for the first time, the many stories she shared about sex trafficking, made me understand that this is happening right here in our own backyard and not just in other countries. I was honored that I was asked to attend the Immersion Tour and to meet such wonderful young ladies who will be okay thanks to Selah Freedom," stated Asjha Jones.  
"Growing up in poverty and going through adversity is the driving force behind my success today. I hope I was able to encourage the survivors by sharing my story just as they did. This tour opened up my eyes as sex trafficking has no boundaries, said DeeMo. "As a father of two teenage daughters, I couldn't help to think that any one of the girls sitting across from me, could have been my daughter. When we left the Residential home, I'm even more committed to helping Elizabeth and her teams raise funds and awareness for this cause, stated Cabot Marks. "Selah Freedom is like a beacon and other organizations who are wanting to do this work should look to what they are doing because they've got it right," said Captain Jonathan Todd.
"For me, to be able to keep helping survivors step into the freedom and restoration that they deserve and put offenders behind bars is what it is all about! By having additional support from sports stars, entertainers, corporations and donors from all areas of the country, we will continue to increase our impact and save lives," says Elizabeth Melendez Fisher. "We have been gifted a 7,700 sq. ft home, which is being fully restored and is the largest assessment home in the Midwest and we are focused on having this project completed before the holidays for the survivors coming from Chicago and Milwaukee. Every dollar counts for us!" info@selahfreedom.com
About Selah Freedom
Selah Freedom is a national organization with the mission to end sex trafficking and bring freedom to the exploited through four strong programs: Awareness, Prevention, Outreach and Residential. Selah Freedom actively confronts the issue of sex trafficking and is being upheld as the model for how to effectively bring solutions to survivors of sex trafficking and exploitation. Selah is a Hebrew word which means to pause, rest, and reflect. We give survivors a chance to do just that. Women in our programs have an opportunity to dream again; to discover who it is they were created to be.
For Media Opportunities: MJ Pedone – MJ@indrapr.com (917) 319-9600
For More Information & Provide Support: www.selahfreedom.com
Facebook: https://www.facebook.com/selahfreedominc
Instagram: @selahfreedom
Twitter: @selah_freedom
###
Source: Selah Freedom
---
Categories: Business News, Multi-Media
Tags: athletes, Charity, Elizabeth Melendez Fisher, entertainers, Indra Public Relations, law enforcement, NFL, Nonprofit, Selah Freedom, Sex Trafficking
---