AthenaOnline Bite-Sized Learning Series Update Satisfies Hungry Learners
Press Release
•
updated: Feb 26, 2019
New version of microlearning series for organizational competencies offers a bigger menu of options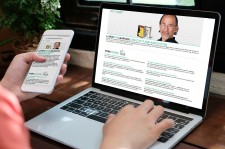 OAKLAND, Calif., February 26, 2019 (Newswire.com) - One year after the successful launch of AthenaOnline's low-cost, competency-based microlearning video series Athena has launched a new version with more pre-curated competencies and greater mobile support.
Jon Peters, founder of AthenaOnline today announced the updated microlearning service that allows an organization's entire employee population to receive access to curated, competency-based microlearning from industry experts for less than $500 per month.
"We saw tremendous success in organizations that had implemented the original series, but we knew that we could do even more," said Athena's founder, Jon Peters. "The new bite-sized learning series is a full solution that supports even more organizational competencies; offers a usage dashboard for tracking and includes marketing support to promote the program to employees. We cannot imagine a solution that is easier or more cost-effective to implement."
Many employees feel that they have less time to dedicate to their self-development. A study done by Bersin by Deloitte Research and Advisory Services found that employees felt they could devote less than 5 minutes per day to their training. This new series fits into this new paradigm of learning with fast, mobile-friendly delivery that breaks information down into 5-minute lessons that are focused on implementation.
Athena's new program is called the Athena Bite-Sized Competency Series. An organization selects twelve out of twenty-five pre-curated competency pages, one for each month of the one-year program. Competencies can be delivered in any order the organization desires to support its own internal development initiatives with topics changing monthly. Each competency page contains 10 to 15 microlearning videos created with a subject-matter expert. Thought-leaders include Marshall Goldsmith, Beverly Kaye and many other authors, researchers and speakers. The expert-driven lessons are supported with bullets, closed-captioning, printable transcripts and customizable end-of-lesson metrics.
The series comes with a dashboard to measure the usage of the program. The dashboard also includes access to prebuilt and customizable marketing emails that can be used to promote the monthly topics within the organization.
"We're very proud of this new series," says Peters. "It is incredibly fast and easy for an organization to get up and running, and supports the new realities of organizational learning with short, video-based, mobile-friendly and actionable lessons."
The new program is available immediately from AthenaOnline.
Source: AthenaOnline Corp.
Tags
Related Files
Additional Links