Athena Security AI Lands $5.5M Seed Round to Help Mitigate Crime and Active Shooter Events
A.I. Software protects Fortune 500 companies, schools and religious establishments using current security cameras without profiling and invading people's privacy
Press Release
-
updated: Jun 13, 2019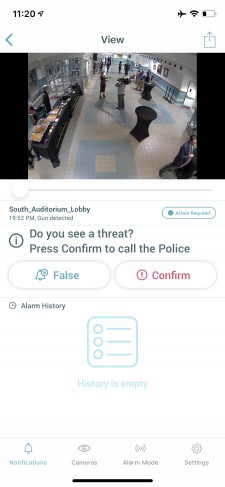 SAN FRANCISCO, June 13, 2019 (Newswire.com) - Athena Security, an A.I. security software startup with 99% accuracy for gun detection system that uses common video cameras to detect an active shooter situation before they fire off the weapon, today announces landing $5.5M in seed funding led by Pathfinder, the angel arm of Founders Fund, along with nearly 40 individual angel investors to speed mass adoption of the Company's award-winning security technology, named best threat and risk management systems at the 2019 Security Industry Awards. With successful gun detection system camera deployments at schools, businesses and places of worship, the world's first truly accurate A.I. security camera system that instantly alerts law enforcement as soon as a gun or criminal act is detected. Since launching last fall, Athena Security has grown to 29 employees helping keep clients like Archbishop Wood High School in Pennsylvania and Al-Noor Mosque in Christchurch, New Zealand and other unnamed businesses more safe.
With an FBI-reported 1,247,321 violent crimes in the US in 2017, most of today's security measures lack a preventative approach. "Our goal is to save lives and speed help to the scene of the crime," said Lisa Falzone, CEO and co-founder of Athena Security. "As more and more school principals, business owners and religious leaders thank us for adding this extra layer of protection to keep the people they serve safe, it's an overwhelming feeling that we're making a difference."
"While Athena Security's A.I. technology provides a never before used ability to mitigate crimes with computer vision, also important is to be socially responsible with such a new technology that could be linked to racial, ethnic and religious profiling.
"Lisa Falzone and Chris Ciabarra have world-class business building pedigrees and their new software company, Athena Security, will not only save lives and mitigate crime, but will do so in a socially responsible way that responds appropriately to today's globally violent times," said Adrian Fenty, General Partner at M Ventures and former Mayor of Washington, DC.
About Athena Security
Headquartered in Austin, TX and founded by former Revel Systems founders Lisa Falzone and Chris Ciabarra, Athena Security is a cutting edge A.I. security camera startup with 99% accuracy to help mitigate crimes and shootings for schools, corporations and places of worship. The Athena Gun Detection Security system, which masks all Personally Identifiable Information (PII), can be stand-alone or integrated with existing cameras. For more information go to Athena Security's website at http://athena-security.com
Source: Athena Security
Share:
---
Categories: Artificial Intelligence and Expert Systems
Tags: artificial intelligence, Gun Detection System, Security Camera
---