aT Center LA Donated to California Fire Foundation
Press Release
•
updated: Oct 8, 2020
Korea Agro Fisheries and Food Trade Corporation supports our community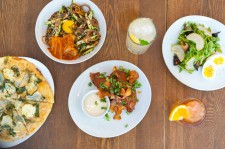 LOS ANGELES, October 8, 2020 (Newswire.com) - On Oct. 1, 2020, aT Center Los Angeles (Korea Agro-Fisheries and Food Trade Corporation) and Bacari West 3rd, known for its creative Mediterranean-inspired bites, donated 50% of their proceeds from Korean-inspired dishes to the California Fire Foundation to help communities suffering from ongoing fires in California.
aT Center LA and Bacari West 3rd teamed up together to introduce Los Angeles to a menu of mouth-watering dishes from the Republic of Korea. Celebrated Chef Lior Hillel of Bacari Restaurants curated a Korean-centered menu that showcases key ingredients such as Kimchi, Garlic, Red Ginseng, Omiberry, Yuja, and other traditional flavors.
These menus were popular not only for their taste but also for their health benefits. There is growing evidence that fermented foods such as kimchi may improve intestinal health and, as a result, it supports the immune system and anti-inflammatory responses. Kimchi can also improve levels of good bacteria in the gut and may help improve symptoms such as constipation and diarrhea. (Source: BBC Good food https://www.bbcgoodfood.com/howto/guide/health-benefits-kimchi) Korean garlic is also known as a healthy food ingredient. It is known to contain antioxidants and antibacterial properties, purify the blood and have an antibiotic effect.
(Sources: https://health.clevelandclinic.org/6-surprising-ways-garlic-boosts-your-health/
https://www.medicalnewstoday.com/articles/265853#benefits
https://food.ndtv.com/food-drinks/powerhouse-of-medicine-and-flavour-surprising-health-benefits-of-garlic-1200468)
aT Center LA will continue to hold other events that contribute to the community to promote the advantages of Korean food and encourage the export of Korean food to the United States.
aT Center LA is the U.S. regional branch office of Korea Agro-Fisheries & Food Trade Corporation in the Republic of Korea located in Los Angeles, California. Korea Agro-Fisheries & Food Trade Corp. is the government agency that was founded in 1967, entrusted with the promotion of trade, exportation, and marketing of Korean foods and beverages around the world.
Source: aT Center Los Angeles