aT Center LA Donated Korean-Inspired Food to Frontline
Press Release
•
updated: Sep 17, 2020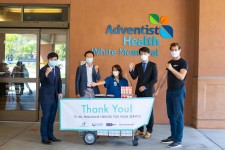 LOS ANGELES, September 16, 2020 (Newswire.com) - ​​​On Aug. 31, 2020, aT Center Los Angeles (Korea Agro-Fisheries and Food Trade Corporation), KGC (Korea Ginseng corporation), and Bacari West 3rd, known for its creative, Mediterranean-inspired bites donated Korean-inspired food and red ginseng product to frontline, Adventist Health White Memorial center (1720 East Cesar E Chavez Avenue, Los Angeles, CA 90033).
aT Center LA and Bacari West 3rd is teaming up to bring Los Angeles a new, limited-time menu of delicious eats from the Republic of Korea. aT Center LA to support small businesses during this time of struggle and provided an opportunity for customers to sample Korean food on Aug. 29, 2020. To further support of the city, aT Center LA and team Bacari decided to donate their menu to our heroes, frontlines.
At Bacari West 3rd, a celebrated Chef Lior Hillel of Bacari Restaurants has developed a menu centered around Korean key ingredients, including kimchi, garlic, red ginseng, omiberry, and yuja, among others.
Especially during a time of pandemic when wellness is so important, aT Center and Chef Hillel are excited to present balanced dishes with healthy benefits. Kimchi, the Korean staple of fermented and seasoned vegetables, is proven to be immune supportive, while garlic contains anti-viral and anti-inflammatory properties and is one of the world's greatest superfoods. For those looking to explore Korean culture and cuisine and partake in al fresco dining, Bacari has ample patio seating with tables spaced six feet apart, and the special menu will be offered alongside its usual dinner menu. The items will also be available for takeout and delivery until this Saturday.
Menu
Korean Pear Salad
Korean Pear Pizza
Kimchi Pasta
Korean Spicy Garlic Wings (Wings with Seoul)
Red Ginseng Ice Cream
Honey Ginseng Iced Tea
Yuza Ice Cream (also referred to as yuzu)
Yuza Sparkling Drink
OMI (Omija Cocktail)
About aT Center Los Angeles
aT Center LA is the U.S. regional branch office of Korea Agro-Fisheries & Food Trade Corporation in Republic of Korea, located in Los Angeles, California. Korea Agro-Fisheries & Food Trade Corp. is the government agency that was founded in 1967 entrusted with the promotion of trade, exportation, and marketing of Korean foods and beverages around the world. For more information, visit www.atcenteramerica.com.
About Bacari W. 3rd
Bacari W. 3rd is a Venetian-inspired small plates restaurant featuring Mediterranean-influenced dishes by Chef Lior Hillel. It is the fifth restaurant of the Kronfli Brothers, a family-owned, growing group of restaurants in the Los Angeles area. Offering a rotating curation of small-production wines and eclectic beers from around the world, the restaurants are also known for the one-of-a-kind 90-minute open bar special. The dining room is marked by its beautiful garden, rustic Mediterranean decor, and spacious indoor-outdoor bar. For more information, visit www.eatwithbacari.com. Follow Bacari on Instagram at @eatwithbacari.
Source: FinDig Marketing & Services